Student Leadership 2018-2019 Service Project
"To learn to read is to light a fire; every syllable that is spelled out is a spark." - Victor Hugo

As members of Sigma Tau Delta, you don't need to be reminded of how literacy can open doors, create opportunities, and inspire communities to be great. Sigma Tau Delta's mission is displayed regularly in our commitment to scholarship and service on the chapter level. On a larger scale, Student Leadership works toward the same goal, promoting literacy to all, which is why we chose Benetech as the focus for this year's service project.
What is Benetech?
Benetech is a corporation that has "a pure focus on developing software for social good." They work in four areas: education, human rights, environment, and poverty. Student Leadership will focus on education and the accessibility Benetech brings to others in terms of literacy.
The Bookshare program at Benetech provides accessible ebooks for people with disabilities. It is "the world's largest library of ebooks for people with disabilities, delivering over 550,000 titles to more than a half million people in over 70 countries around the world." Impact like that is hard to ignore. Benetech's mission aligns with ours because as we strive to promote literacy, they strive to ensure that literature can reach as many minds as possible.
Benetech shows us that nothing can stop us from learning, nothing will stop us from growing, and literacy and literature are meant for everyone—of all abilities.
How can your donation help?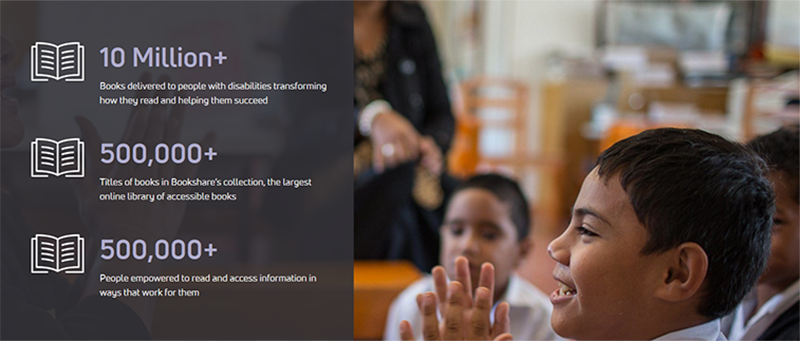 Subsidize memberships for people you want to access Bookshare, like Veterans and Seniors
Get more books into the collection, including books you want the world to read
Support the development of cutting edge technologies that improve how members read and use Bookshare
Provide top rate member support and technical support
Train teachers and others who work with members
Continue to innovate and find new ways to serve our members
Chapter Challenge
During the 2018-2019 academic year Student Leadership challenges all chapters to raise $150.00.
All money raised will be recorded by Sigma Tau Delta, listed by chapter, and presented to Benetech in a single payment. Please do not send money directly to Benetech. Details for the donation process will be outlined at the begining of the fall semester.
Begin Today!
As members of Sigma Tau Delta, we strive to expand our creativity and our knowledge. It is now time to give back and spark imagination in the next generation of readers, writers, and dreamers by providing them with the tools necessary to aid literacy.
Benetech Resources
| | |
| --- | --- |
| | |
| Impact stories from around the world show how Benetech brings Silicon Valley innovation to social change, with solutions for some of the most pressing global needs from education to human rights. | Brian was diagnosed with severe dyslexia at a young age. It was difficult for him to read, write, and spell. Now, Brian is a student at Cornell University where he is studying industrial and labor relations and is on the dean's list. |
Global Literacy Program [PDF]
Bookshare Initiative [PDF]
Bookkshare: A Global Approach to Bring Accessible Books to People with Disabilities [PDF]