Online Submission Instructions
Online Submission Instructions
Accessing Submission Links
Sigma Tau Delta Rectangle - Journal of Creative Writing
Submission Link



Sigma Tau Delta Review - Journal of Critical Writing
Submission Link
If you have previously made an online journal or convention submission, or if you have registered for a past convention, you already have a USI account. To access your account use the same email address and password you used previously.
If you do not have an online account, you must first set up your account. Create a password containing at least five characters.
All confirmations and follow-up communication will be sent via the email address you used to set up your account.
Completing the Online Submission
1. Choose:  Submitter Account  | Add As Author/Co-Author.
    * Sigma Tau Delta only permits one author.
2. Choose: Continue button.
3. Select: Topic from pull-down menu.

The Sigma Tau Delta Review topic selection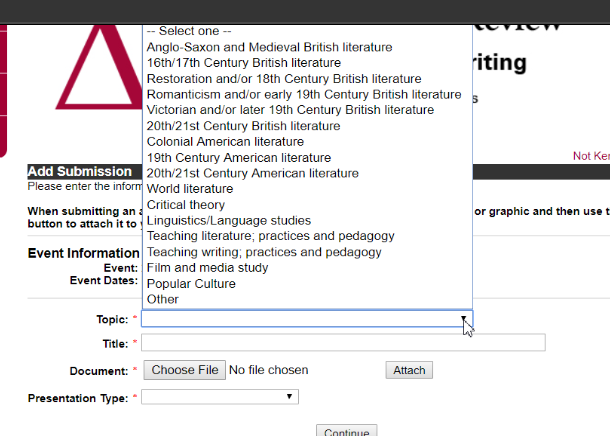 The Sigma Tau Delta Rectangle topic selection


4. Title: Type in your title.
5. Attach your paper as a word document.
Upload your document directly from your computer. Uploading your document from an external drive or web location may cause an upload error.

After you browse and select your file, you must click the ATTACH button.


6. Complete other fields: state, school, academic level, semester/year of Sigma Tau Delta membership induction, and sponsor name and sponsor email address.
7. Click Continue and review the information for your submission.
Additional information:
Submissions are limited to one total for both journals. You may choose either a critical or creative submission. That is, you may submit one critical essay for The Sigma Tau Delta Review, OR you may submit one work of fiction, one work of non-fiction, or a group of up to three poems to The Sigma Tau Delta Rectangle.

You may submit through May 13, 2019, 11:59 p.m. CDT (Central Daylight Time). To do this, login using your account (email address and password). You will see a list of your submission(s) and corresponding submission number.

Contributors will receive confirmations and acceptances through email using the email address you used to set up your account. It is vital to keep your email addresses for communications.
Acceptance and denial notifications will be sent in August.
Authors of accepted submissions will be asked to submit a biography to be included in the publication.
Questions regarding the online submission process should be addressed to sigmatdapply@niu.edu.