Meet the Student Advisors
Timothy Leonard
Louisiana State University
Baton Rouge, LA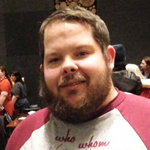 Timothy Leonard received his BA in English in Writing and Literature (2014), and his MA in English Literature (2016) from Indiana University at Indiana University—Purdue University Fort Wayne (IPFW). He will be pursuing a Masters in Library and Information Science at Louisiana State University beginning fall 2016. Most recently, he uncovered a manuscript by William Makepeace Thackeray, dated 1829, and currently is co-authoring an article about the discovery. His academic goals are to preserve antiquarian literature, manuscripts, and documents for generations to come. Through his ongoing research, which includes 19th Century Victorian Fiction, Sensation Fiction, 19th Century Periodicals, and the history of the book, Tim strives to represent the Society's ultimate goal of enhancing literacy through sincerity, truth, and design.
Tim's motivation for becoming a Student Advisor is to create new opportunities for national and international chapters to participate together in service projects. He intends to build upon the accomplishments of his peers in Student Leadership, and to add additional support in the form of communication, networking, and the promotion of chapter ideals. Now in his second year of his term as Student Advisor, he wishes to continue the success of last year's Student Leadership Committee with this year's international philanthropy project.
Samantha Miller
The College of New Jersey
Ewing, NJ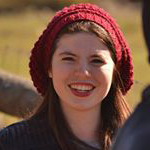 Samantha Miller, a junior at The College of New Jersey (TCNJ), will complete her English Secondary Education degree with a Classical Studies minor in May 2017, and intends to pursue an MA in English the following year. Sam has been an active member of the literary and theatrical communities on campus since freshman year, and recently has presented at her first Sigma Tau Delta International Convention. She also is a member of ink, TCNJ's creative writing club, and on the executive board of Alpha Psi Omega National Theatre Honor Society. Though she enjoys exploring many topics in literature, Sam is particularly interested in intertextuality, the cultural impact of texts, and classical allusions. Some of her favorite texts include The Secret History by Donna Tartt, God of Small Things by Arundhati Roy, and Shakespeare's A Midsummer Night's Dream.
Sam is incredibly excited to begin her term as Student Advisor and looks forward to working with Tim and the rest of Student Leadership as they continue to develop and create opportunities and experiences for Sigma Tau Delta as a whole.

Posted 03/2016