Student Leadership Directory
Student Advisors (SA)
Samantha Miller – Senior Student Advisor
The College of New Jersey
Ewing, NJ
Email: sa2@wordybynature.org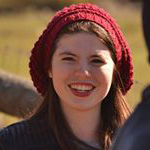 Samantha Miller, a graduate student at The College of New Jersey (TCNJ), is pursuing her MA in English through an accelerated 5-year program. She has been an active member of the literary and theatrical communities on campus since freshman year, and loves to explore innovation and accessibility in entertainment and media. Though she enjoys exploring many topics in literature, Samantha is particularly interested in intertextuality, the cultural impact of texts, and classical allusions. Some of her favorite texts include The Secret History by Donna Tartt, God of Small Things by Arundhati Roy, and Shakespeare's A Midsummer Night's Dream.
Samantha is incredibly excited to begin her second year as Student Advisor and looks forward to working with DeAndra and the rest of Student Leadership as they continue to develop and create opportunities and experiences for Sigma Tau Delta as a whole.
DeAndra Miller – Junior Student Advisor
Minot State University
Minot, ND
Email: sa1@wordybynature.org
DeAndra Miller is a junior English Education Major at Minot State University who hopes to pursue an MFA in Creative Writing. When not serving as Vice President of her Phi Chapter of Sigma Tau Delta, DeAndra keeps busy as the Executive-At-Large of the Beta Theta sorority, where she participates in various philanthropic events and chairs the campus events committee. DeAndra is a reporter for her school's newspaper, The Red and Green. Her favorite genres are Romantic and Victorian British Literature; her favorite books are Pride & Prejudice by Jane Austen and The Picture of Dorian Gray by Oscar Wilde; and her favorite poem is "Kubla Khan" by Samuel Taylor Coleridge. When not reading or writing, DeAndra enjoys playing video games and spending time with her husband and three boys.
DeAndra is honored to serve as a Student Advisor for Sigma Tau Delta; she is eager to advocate for Society members and hopes her position will inspire more representation for the High Plains Region.
Student Representatives (SRs) and
Associate Student Representatives (ASRs)
Eastern Region
Kristen Capano – Student Representative (SR)
The College of New Jersey
Ewing, NJ
Email: esr@wordybynature.org
Kristen Capano is a junior at The College of New Jersey (TCNJ) where she double majors in English Literature and Publishing/Editing. Her 2016 internship with Princeton University Press motivated Kristen to pursue a career in trade publishing. Kristen is the Vice President of TCNJ's Alpha Epsilon Alpha Chapter of Sigma Tau Delta and also served as the chapter's fundraising chair. On campus, Kristen is the treasurer for Blackout Step Team, a step-dance group that performs at local ethnic events. She also has volunteered as an English tutor at local correctional facilities across New Jersey. In her spare time, Kristen is a freelance writer for SevenPonds, which offers guidance through the grieving process and supports those directly and indirectly affected by terminal illnesses.
Lissa Heineman – Associate Student Representative (ASR)
Muhlenberg College
Allentown, PA
Email: easr@wordybynature.org
Lissa Heineman is an English and Film Studies double major at Muhlenberg College where she focuses on transnational and transmedia studies. She also is a screenwriter, an interest she picked up while studying in Prague. Lissa was inducted into the Gamma Iota Chapter last fall, and will serve as a chapter officer in fall 2017. She's involved in various clubs, including the Anime Club and Board Game Association, and is a founding member of her campus's Video Game Association. This summer, a grant from Muhlenberg will allow her to pursue a research project on Asian identity within Disney films, which will evolve into her senior thesis. In her free time she loves to play Dungeons and Dragons, hit the gym, and work on private research and teleplays.
Lissa is excited to serve as the Eastern ASR. She can't wait to work alongside Kristen Capano (Eastern SR) to expand communication and growth for the regional community.
Far Western Region
Sarah Hovet – Student Representative (SR)
University of Oregon
Eugene, OR
Email: fwsr@wordybynature.org
Sarah Hovet is a senior at the University of Oregon (UO), where she is double-majoring in English and Journalism, with a minor in Creative Writing. She has served as Vice President and President of the Alpha Tau Phi Chapter of Sigma Tau Delta. She is also a staff writer for Ethos Magazine, a member of the Environmental Leadership Program, and manager of the national UO Poetry Slam Team. Sarah is a tutor and conversation partner for students learning English as a second language at the American English Institute and teaches a one-credit course on poetry each fall as a Clark Honors Introductory Program leader. She hopes to earn an MFA in Creative Writing with an inter-genre focus in poetry and fiction.
As Far Western SR, Sarah hopes to promote community among chapters, provide more opportunities for undergraduate scholarship on the regional level, and improve communications at regional and national levels.
High Plains Region
Stephanie Gardener – Student Representative (SR)
Chadron State College
Chadron, NE
Email: hpsr@wordybynature.org
Stephanie Gardener will graduate from Chadron State College (CSC) in May 2018 with a BA in English and minors in History and Nutrition. After earning her undergraduate degree, Stephanie intends to pursue an MFA in Creative Writing and ultimately hopes to publish a collection of zombie apocalypse short stories and a memoir. She also hopes either to teach Creative Writing at the college level or work in publishing. Stephanie currently works at her college library, is the editor of CSC's literary journal 10th Street Miscellany, and serves as Vice President of CSC's Sigma Tau Delta chapter. In her free time, Stephanie enjoys spending time with her husband and son, reading, and training for half marathons.
Stephanie is excited to serve as the High Plains SR, and intends to utilize her position to encourage the chapters in her region to work toward fostering literacy within their community over the course of the next year.
Shaniya DeNaeyer – Associate Student Representative (ASR)
Chadron State College
Chadron, NE
Email: hpasr@wordybynature.org
Shaniya DeNaeyer is a senior at Chadron State College, majoring in Literature with a minor in Creative Writing. She was raised on a ranch south of Valentine, NE, and has always been inspired to write about the beautiful Sandhills surrounding her home. English and the Humanities always have been a major influence in her life. Even as a child she fancied herself a poet. When she graduates from Chadron, her plan is to go where ever her career pulls her. Shaniya is an avid reader and loves to journal. Her favorite book is The Great Gatsby by F. Scott Fitzgerald because she finds beauty in the descriptive language. Shaniya is an editor for the on-campus literary journal 10th Street Miscellany.
She is excited for the opportunity to serve as High Plains Region ASR. She plans to use this opportunity to recruit more of her classmates into Sigma Tau Delta and expand her chapter's campus involvement.
Midwestern Region
Haley Coburn – Student Representative (SR)
Stephens College
Columbia, MO
Email: mwsr@wordybynature.org
Haley is a junior English major at Stephens College and has been a member of the Alpha Epsilon Eta Chapter for two years and the chapter Secretary for one year. She has interned as an assistant editor for the award winning literary magazine, Harbinger, for two years. Her poetry collection, Daughters, was published in Harbinger: Girls Like Us and was presented at the Sigma Tau Delta 2016 International Convention in Minneapolis, MN. She has worked as an AVID middle school tutor for Columbia Public Schools and a media production assistant at KOMU 8 news station. Haley loves reading stories about adventure and writes comedic prose and depressing poetry. She draws inspiration from her family for both. She recently has started exploring multi-media art, such as graphic novels or crafts paired with prose. She is a front-of-the-class talker and tries to find humor in almost everything. Haley shares her down time with her partner and two cats, Boots and Sally.
Brittany Lawson – Associate Student Representative (ASR)
Central Methodist University
Fayette, MO
Email: mwasr@wordybynature.org
Brittany Lawson is a senior Biology major with minors in Chemistry and English at Central Methodist University. Brittany has been a member of the Mu Lambda chapter of Sigma Tau Delta for two years, and has served as Secretary and President. Brittany was co-editor of Central's 42nd edition of the literary magazine Inscape and is a writing associate for the campus writing center, which aims to help students of all majors foster a positive relationship with writing and revision. Brittany hopes to continue her lifelong love of writing and studying poetry as she pursues a PhD in Microbiology. In her free time Brittany loves to read, rewatch Friends on Netflix, and play the ukulele. Her favorite book is The Hitchhiker's Guide to the Galaxy by Douglas Adams.
Southern Region
Elizabeth Upshur – Student Representative (SR)
Western Kentucky University
Bowling Green, KY
Email: ssr@wordybynature.org
Elizabeth Upshur, a first year graduate student at Western Kentucky University, is studying creative writing with a secondary concentration in literature. She is a member of Sigma Delta Pi National Collegiate Hispanic Honor Society, Phi Theta Kappa, and was a Who's Who Among Students in American Universities and Colleges recipient. She has participated in the Meacham Writers Workshop, the Frost Place Conference on Poetry, and the Bread Loaf Translators' Conference. Her work has been published in several student and regional journals, including Perceptions, Red Mud Review, Zephyrus, and Lost River. She has presented papers and research at several local conferences, as well as the 1st Tennessee Experiential Learning Symposium and the Robert Penn Warren Circle. Her current research interests include Mark Twain, translation, feminine monsters, and Black spirituality. In her free time, she enjoys listening to music, sketching, and bachata dancing.
Elizabeth is looking forward to her second term as Southern SR.
Britton Edwards – Associate Student Representative (ASR)
University of North Carolina Wilmington
Wilmington, NC
Email: sasr@wordybynature.org
Britton Edwards, a junior at the University of North Carolina Wilmington (UNCW), will graduate in May 2019 with degrees in English Literature and Creative Writing, along with a certification in publishing. She currently serves as President of the Alpha Alpha Upsilon Chapter. Besides working with Sigma Tau Delta, Britton is also the Tour Chair of the Student Ambassadors, a current leader for Cru, and a Study Abroad Ambassador. She is a member of the Honors College and recently was inducted into the Phi Eta Sigma National Honor Society. Britton ultimately hopes to become an editor for a publishing company, helping bring to life the beautiful stories of the world. When not writing or reading, she enjoys working on her art and knitting. Her favorite book is The Devil in the White City by Erik Larson.
Britton is honored to serve with Sigma Tau Delta as the Southern ASR.
Southwestern Region
Su Lynn Tan – Student Representative (SR)
Southern Arkansas University
Magnolia, AR
Email: swsr@wordybynature.org
Su Lynn Tan is an international student from Malaysia at Southern Arkansas University (SAU) where she is completing a BA in English with a teaching certification and minors in French and Teaching English as a Second or Other Language. She will graduate with Honors in May 2019. Her career goal is to teach English as a second language all over the world. She currently holds the position of Vice-President in the SAU International Students Association. Su Lynn's hobbies include playing the piano, playing video games, and reading; she hopes to travel the world and scuba dive wherever and whenever she can!
Su Lynn looks forward to serving as the Southwestern SR this coming year!