Sigma Tau Delta 2022 International Convention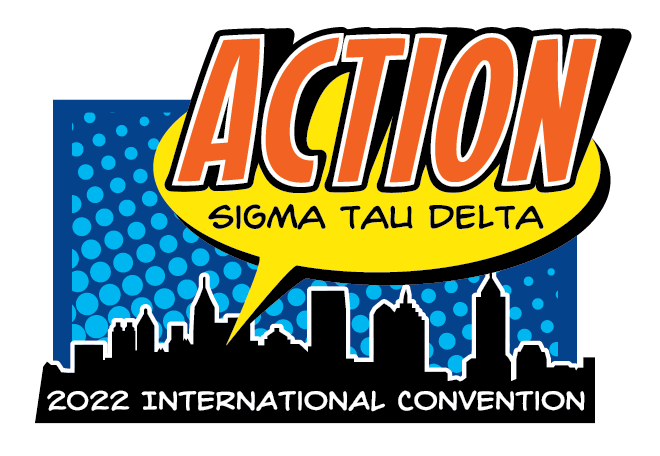 Sigma Tau Delta will hold its annual international convention in spring 2022. It is a truly wonderful event that allows hundreds of Sigma Tau Deltans from around the globe to gather in one locale, share experiences and ideas, be recognized for their achievements, and participate in the official side of the Society. At the convention, opportunities abound to meet face to face with other students, faculty, and respected authors, make new friends, discuss the disciplines of the English language and literature, and enjoy the offerings of the convention's location.
Dates and Location
March 30 - April 2, 2022
Sheraton Atlanta Hotel
Atlanta, GA
Theme: Action
Now as in the past, Atlanta is a city of action. It's the home of leaders like Dr. Martin Luther King, Jr. and John Lewis, who encouraged us to get into "good trouble" in the name of change. The movie industry is among the most thriving in the country, the city is home to multiple professional sports teams, and the traffic is almost always bustling. The city's motto, resurgens, means rising again, depicted as a phoenix rising from the ashes. As we emerge from the pandemic and look toward our first in-person convention in two years, this theme encapsulates our mutual hopefulness and excitement.
Common Reader: Dear Martin, by Nic Stone
Featured Speakers
Richard Blanco
Thursday, March 31, 5:00 p.m.
Reading, followed by book signing
Friday, April 1, 9:30 a.m.
Workshop: Poetry
Nic Stone
Dear Martin, Common Reader Author
Friday, April 1, 3:30 p.m.
Reading, followed by book signing

Saturday, April 2, 9:30 a.m.
Workshop: YA Fiction Writing
Important Dates
Call for Papers and Roundtable guidelines will be posted  in August.
Paper and Roundtable Submissions Accepted: September 27-November 1, 2021