2016 Convention Stories
Kao Kalia Yang: a voice that touches hearts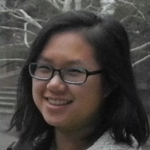 Grace Shum
Alpha Tau Phi Chapter
University of Oregon, Eugene, OR
You don't expect to attend an academic convention and then cry your eyes out (get teary-eyed) at a guest speaker talk, but that's exactly what happened when I sat down to listen to author Kao Kalia Yang.
Yang is a Hmong American writer, who was originally born in a refugee camp in Vietnam. At the 2016 Sigma Tau Delta Convention, she talked about her book, The Late Homecoming: a Hmong Family Memoir, which recounts her family's transition from Vietnam to Minnesota.
Now, Yang is not a very imposing person: she's shorter than five feet.  But when her quiet, lyrical voice appeared, Yang held us all in a trance. And, as she read a passage from her book, her writing wrenched our heartstrings.
As my chapter president said, Yang was like this old, wise, but sad grandmother who has experienced so much of the world that you just want to give her a hug.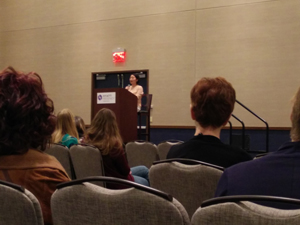 And yet, when she talks, you're the one who will need a hug. Not necessarily because Yang's subject matter is sad and depressing, but because Yang's words remind you of humanity. Her words make you relive pure human emotion even though her experiences are not yours.
Yet Yang didn't just make us cry. She claimed she wasn't a funny person, but in between bouts of crying, I found myself laughing at her story of her father's unexpected tree-climbing and cutting proficiency.
Yang also said she was bad at answering questions. But, that's not true either. Her way of answering is just like her writing, a lyrical anecdote to get her point across. One audience member asked, as a teacher, how can we help Hmong American students and others who struggle with English?
Yang's reply was another story. When she was younger, Yang was so shy she was proclaimed a selective mute. But she had one teacher who wanted to know her thoughts, who wanted to know why she laughed this one day this one time, and who communicated with Yang by leaving a piece of paper on Yang's desk, having a conversation with her in writing. Yang was sad when the paper filled up.
Yang's advice was that teachers should never stop trying, should never stop thinking of other ways to help their students. As a part-time tutor, I suggest we take Yang's words to heart. You never know what words – either written or spoken – can do.
Save Our Stories