2016 Convention Stories
A Convention in this, the Entropic Universe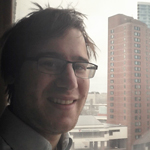 Thomas Carter
Kappa Upsilon Chapter
Saint Martin's University, Lacey, WA
The night before my presentation my prof and I sat over some pints at the Brit Pub.
"So, are you nervous?"
"Not really, ha." But maybe I was a little nervous.
We finished our beers and made it back in time for Charles Baxter's presentation.
Absurdism: that was the focus of my paper. Oh Camus, ever fiddling with a newspaper and cigarette along a busy street in downtown Marseille—distractedly perseverant, holding back entropy.
I listened, slightly buzzed, as Charles Baxter recalled the Jews' perseverance in the face of Nazi death camps. We English majors aren't afraid of the dark stuff, for the best literature is rarely without a touch of the gallows. Baxter tells of the flickering light in the soul's universe, in the soul's gas chamber. No, maybe I'm not nervous. Perspective: That's another thing of which we aren't afraid.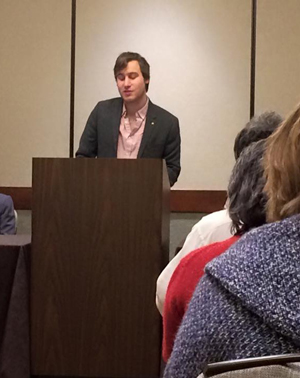 My presentation went well, I felt confident at the podium in Oxford cotton shirt and sport coat. Of course, no tie. The chest has to breathe.
After the session a couple of girls from the audience came up.
"Did anyone ever tell you that you sound like Christian Bale?"
"Um…"
"Okay bye!"
I stood there as the two girls walked away, still trying to frame a response. Had I been pretending to be Batman to stave-off nerves?
I shook hands with my prof and made for the next session—Mrs. Dalloway. The sun was peaking out and I knew that spring was coming and that nature, too, fights against entropy.
And that is what we are doing at this convention. Gathered together, we throw open the french windows of our souls to the blooming air. We laugh at death, and at those who would stifle our voices. We bring new perspectives, and try to understand despite the absurdities of history, politics, and everyday life.
In this expanding universe, each book we read and every paper we write is a conscious effort to keep the light burning, to keep the flowers blooming. So, my friends, read-on, and write-on. And if you get nervous, just pretend you're Batman.
Save Our Stories