Sigma Kappa Delta Events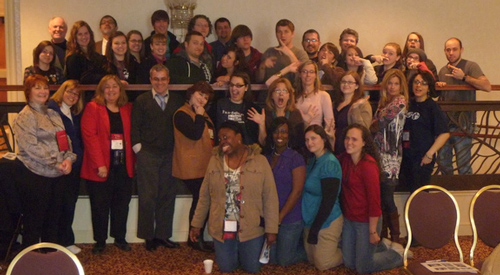 The Sigma Kappa Delta National Convention is part of the Sigma Tau Delta International Convention. Registration for the event is through Sigma Tau Delta, and SKD registrants have full access to all programs and presentations sponsored by Sigma Tau Delta.
Convention Registration
New: You will be asked to register for the Linda Kraeger Awards Luncheon. There will be an addition $5.00 charge for this event.
Sigma Kappa Delta Member Events
Meet and Greet, Thursday, March 19, 5:15-7:00 p.m.
(Hyatt Regency Lobby)
This event is hosted by the SKD National Board at no cost to attendees. It gives our members a chance to meet others from around the country. Food and non-alcoholic beverages are served, and we usually hold an "ice-breaker" game. Occasionally we invite a guest speaker and Dr. William Johnson, Executive Director of Sigma Tau Delta, usually stops by.
Linda Kraeger Awards Luncheon, Friday, March 20, 11:15 a.m.
(Hyatt Regency Lobby)
This luncheon is where we honor those individuals who have won the national writing contests and scholarships, and also present the chapter awards for best literary magazine and chapter activity. There will be menu selections which must be made in advance of the convention dates. Please notify the National Office of your intent to attend so we can e-mail you the list of choices as the convention date grows closer.
Student Meeting, Saturday, March 21, 12:45-1:30 p.m.
(Sierra Vista)
Each chapter should send 1-2 representatives to this information session where students will be able to make suggestions concerning their organization. This is a first-time event, and we hope to have a lively discussion among Sigma Kappa Delta student members. The students will meet with National Office personnel to voice any concerns or comments.
Sponsor Meeting, Saturday, March 21, 12:45-2:00 p.m.
(Sendero Ballroom)
This is a chance to learn more about Sigma Kappa Delta through the eyes of other chapters. Board Members meet with the faculty sponsors to address comments and concerns.
Student Roundtable (Time and date to be determined)
A call for submissions was held this fall via email and newsletter. Selected students are invited to present their thoughts and papers to an audience. Past presentations by SKD members have included such topics as "My Transformative Text" and "Family Traditions – Oral, Myth, and Legends."
General Information
Local chapters are encouraged to design and wear their own T-shirts and merchandise. At the Sigma Tau Delta convention, local chapters can reserve a table to sell their local merchandise. This is done through Sigma Tau Delta, and there may be a nominal fee attached. Please see the Sigma Tau Delta convention page for more information.
In addition to registering through the SKD registration link, we also ask that you contact the National Office via email with your intent to attend. While we do receive a list of convention registrants, sometimes schools fall through the cracks. Having a good count of attendees allows us to ensure that our venues are large enough, that we can get in touch with chapters for awards luncheon menu choices, and that we order enough food for all.
We hope you will attend the 2015 Convention. Please keep checking this page for specific and updated information.