Convention Theme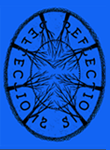 Reflections: The Sigma Tau Delta Convention. Growing up in the farm country of southwestern Minnesota, I learned early that the "Land of 10,000 Lakes" actually had twice that many lakes (if we counted the little ones), surrounded by millions of trees for Paul Bunyan to cut. I learned that the Great Lakes were made by the hoof prints of Babe, Paul Bunyan's Blue Ox. I also learned that my new saddle shoes could survive the ten inches of water that covered them when my brother pushed me into the stream that becomes the great Mississippi River. 
Even in the metropolitan area known as "The Twin Cities," or just "The Cities," where half of Minnesota's over five million people live, the waters dominate. The Mississippi River originates in northern Minnesota at Lake Itasca, but by the time it reaches The Twin Cities, the Mississippi is a wide and magnificent river that both joins and divides Minneapolis, "The City of Lakes," from its twin, St. Paul, the state capital of Minnesota.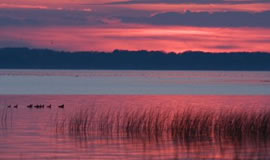 Those waters and the worlds reflected in them are the impetus for the 2009 convention theme of Reflections. The state of Minnesota takes its name from the word the Dakota gave to the Minnesota River, minisota, which means "water that reflects the sky." On a literal level, Reflections identifies the relationship between the sky and the sky-blue water, between the natural world and the human-made world. On a figurative level, Reflections suggests the contemplative meditations on the individual and on society often experienced in the presence of natural wonder. Furthermore, Reflections opens up the theme to ways of  seeing how human endeavor and creativity are influenced by the natural world. 
For Minneapolis may be "The City of Lakes," but it also has a very lively metropolitan life, the Mall of America (the largest enclosed mall and recreational space in the world), the famous Guthrie Theater,  the Walker Art Center, the Orpheum Theater, and dynamic artistic, dramatic, and music scenes.
In 2009, we will be staying at the Hyatt Regency Hotel on the Nicollet Mall in downtown Minneapolis. For eleven blocks, wide sidewalks flow on the Nicollet Mall in front of shops and dining establishments, with only taxis and buses allowed down the middle of the street. This is a pedestrian's delight, on the street or in the skyways.  For only $1.50 ($2 during rush hours), the Hiawatha light-rail line and the Metro Transit buses connect the Nicollet Mall to all parts of the Twin Cities, including the Minneapolis-St. Paul International Airport and the Mall of America. Even better, the buses cost only 50 cents in the Downtown Zone. 
Come to Minneapolis for the 2009 convention and share your reflections:
"Two men in a skiff, whom we passed hereabouts, floating buoyantly amid the reflections of the trees, like a feather in mid-air, or a leaf which is wafted gently from its twig to the water without turning over, seemed still in their element, and to have very delicately availed themselves of the natural laws. Their floating there was a beautiful and successful experiment in natural philosophy, and it served to ennoble in our eyes the art of navigation; for as birds fly and fishes swim, so these men sailed. It reminded us how much fairer and nobler all the actions of man might be, and that our life in its whole economy might be as beautiful as the fairest works of art or nature."  Henry David Thoreau. A Week on the Concord and MerrimackRivers
by Gloria J. Hochstein, 2009 Convention Chair
University of Wisconsin-Eau Claire