Student Attendee Events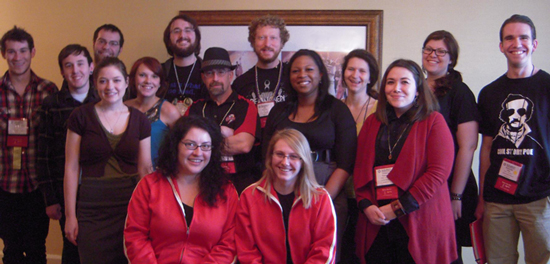 2012-2013 Student Leaders

Wednesday, March 20
Opening Ceremony and Entertainment: Sigma Tau Deltlandia - 7:00 p.m.*
(Grand Ballroom)
Welcome! Don't miss this rousing kickoff to the 2013 Sigma Tau Delta Convention, for students, faculty, and alumni. An introduction by Convention Chair Gloria J. Hochstein and entertaining skits by the Student Leadership will lead to a big Portland welcome from noted Portland author Lois Leveen with her short but lively "Reflections of an Accidental Novelist."
Rectangle Reading - 8:00 p.m.*
(Grand Ballroom)
Immediately following the opening ceremony will be a reading of works from The Sigma Tau Delta Rectangle journal of creative writing.
Open Mic - 9:00 p.m.*
(Grand Ballroom)
Attendees are invited to share their creations at Open Mic Night, emceed by Gary Dop.  
*Bonus: Several lucky attendees at each of the indicated (*) events will win door prizes including personalized, signed hard copies of the latest Sookie Stackhouse novel (due out in May), $50 gift certificates to Powell's Books, and merchandise from Sigma Tau Delta and Powell's Books.
Thursday, March 21
Page Turners: Student Leadership Roundtable - 8:00-9:15 a.m.
(Grand Ballroom II)
Current and potential student leaders are encouraged to attend this interactive roundtable led by the Student Leadership of Sigma Tau Delta: the Student Advisors (SAs), Student Representatives (SRs), Associate Student Representatives (ASRs), and Alumni Representative (AR). This roundtable offers valuable information for developing chapter leaders and gives attendees a chance to discuss various topics and concerns, as well as connect with chapters within and outside of your region. This workshop is broad for a reason—we want to hear what your needs and concerns are and offer this opportunity for a lively exchange of ideas. To make this roundtable even more enticing, we will have drawings for very nice door prizes at the end of the roundtable. You might be one of the lucky winners, but you have to be there to win.

Career Development and Writing Workshops
After the opening roundtable, convention attendees may select from several workshops and roundtables on career development and writing from 9:45-10:45 and from 11:00-12:00 Thursday morning. These workshops and roundtables will be led by experts (publishers, writers, professors) and include a script writing workshop, a poetry writing workshop, a resume writing workshop, a roundtable on publishing careers, and more. Additional career and writing workshops and roundtables will be offered during the concurrent sessions: see Workshops and Special Presentations.
Regional Networking - 7:00 p.m.
(Grand Ballroom I)
Attend the Regional Networking meeting to meet with your Regent and your Student Representative. Learn what is going on in your region, meet the candidates for regional office (or decide to run yourself), network with other chapters, and have a chance to give your input. Those interested in running for office or who would like more information about upcoming elections please email Lauren Brandeberry.
Student Leadership Position Duties and Applications
Dry T-shirt and Bad Poetry Contest - 9:00 p.m.
(Grand Ballroom I)
Get ready for some side-splitting fun as chapters with shirts to sell promote them with funny skits. Props and costumes are encouraged. The chapter with the best t-shirt skit will win a $75 gift certificate to Mother's Bistro. After that, convention attendees bring you the best and worst in bad poetry. Think the love poem you wrote in third grade is worse than Vogon (Hichhiker's Guide to the Galaxy) poetry? Enter it in the competition and you might just win a Powell's Books gift certificate or other fabulous prize.
More Skits From the 2012 Convention
Friday, March 22
General Business Meeting and Regional Caucuses - 11:00 a.m.
(Grand Ballroom)
Don't miss this opportunity to participate on the regional and Society levels of Sigma Tau Delta. The General Business Meeting and Regional Caucuses are where our chapters elect Sigma Tau Delta's next generation of leaders. To encourage your chapter to participate, every chapter with an official voting student delegate present at Friday's General Business Meeting and Regional Caucus is eligible to receive a $200 reimbursement ($400 for non-continental U.S. chapters).