Hotel Information
Important Hotel Reservation Update
February 5, 2008 - The reservation deadline at the Louisville Marriott Downtown hotel has passed.

Sigma Tau Delta has blocked a limited number of rooms at the Hampton Inn Louisville. The Hampton Inn is located at 101 E. Jefferson St. and just 2 blocks from Louisville Marriott Downtown hotel. The room rate at the Hampton Inn for Wednesday night, March 5, is $149.00. The room rate for Thursday, Friday and Saturday, March 6-9 is $119 per night. All rates include breakfast. The Hampton Inn Louisville offers a complimentary airport shuttle— call the hotel when you arrive in Louisville.
There are only a limited number of rooms blocked at the Hampton Inn, so make your reservations as soon as possible by calling the Hampton Inn at 502-585-2200. The reservation deadline is February 18.
If you are unable to make a reservation at either the Hampton Inn or the Louisville Marriott Downtown, here is a list of hotels near the Louisville Marriott Dowtown. We do not have a room block at these hotels, so there is no need to mention Sigma Tau Delta.
The Galt House (4 blocks from the Marriott).
140 N. 4th Ave.
Tel.  502-589-5200
The Seelbach Hilton (3 blocks from the Mariott)
500 S. 4th Ave.
Tel. 502-585-3200

Hyatt Regency Louisville (1 block)
320 W. Jefferson St.
Tel. 502-581-1234
If you have any difficulties making hotel reservations, please email sigmatd@niu.edu.
Louisville Marriott Downtown Hotel Information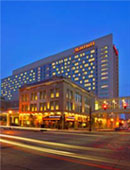 All official convention activities will take place in the Louisville Marriott Downtown at 280 W. Jefferson Street. The Marriott is one of the city's newest hotels, ideally situated in downtown Louisville, near the Fourth Street Live! entertainment district and the historic Main Street district.
Make Reservations
To reserve a room at the Louisville Marriott Downtown, call 1-800-533-0127.
Need a Roommate?
February 5, 2008 - We are no longer accepting roommate requests.
Ground Transportation

If you are flying into Louisville, the Louisville Marriott Downtown Hotel is located 8 miles from Louisville International Airport. Follow the airport signs to ground transportation. The taxi-cab stand is located on the traffic island outside of the terminal. There should be plenty of cabs waiting at the airport; however, should you need to call a cab, the cab companies are: Yellow Cab at (502) 636-5511 and Ready Cab at (502) 417-4406. One-way cab fare to the Louisville Marriott Downtown Hotel is a flat rate of $18.70 for up to four passengers. Share a cab to the Marriott and save money.
If you are driving to Louisville, you can get driving directions from www.mapquest.com. The hotel address is 280 W. Jefferson, Louisville, KY. The Louisville Marriott Downtown telephone number is (502) 627-5045.