Convention Theme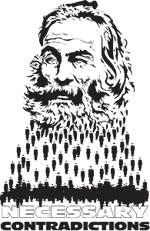 Paradoxes. Juxtapositions. Antinomies. Oxymorons. Contradictions. As a scholar of magical realism, I love them. I revel in the notion that language allows for the marriage of words and ideas that otherwise seem completely incompatible. More specifically, I seek them out in texts. I note them in my margins: "It's boiling," a young Aureliano Buendía says about ice in One Hundred Years of Solitude. I taste them on my tongue, reading and rereading aloud Charles Baudelaire's line — from the aptly named poem "A Carcass" — "[a]nd the sky cast an eye on this marvelous meat / As over the flowers in bloom." I hoard them to share with friends: unbiased opinion, plastic silverware, jumbo shrimp.
These paradoxical or contradictory moments may reveal great truths about the universe and our place in it, or they may instead provide simple comic relief. Whatever their intent or result, pinning them down, teasing them apart until they unfold like an origami swan, does something special for us as readers. Contradictions require us to acknowledge the multitudes... and our own substantiality.
The 2008 Sigma Tau Delta convention invites you to celebrate contradiction in a city that is something of a paradox itself. Louisville was founded by a rebel — an American revolutionary general — yet is named for a French aristocrat. The city and the adjacent Ohio River symbolized freedom for slaves escaping to the North but housed a booming slave trade in its day. Its Kentucky Derby spurs on gamblers from around the globe without Louisville forfeiting the charm and gentility of a Southern city. And this polished and urban locale still manages to conjure images of bluegrass music and rolling hills.
Attendance at the annual conventions continues to rise, and Louisville promises to be no exception. We will convene at the downtown Louisville Marriott, a new hotel within easy distance of the entertainment district. There, we will await your literary acumen. We will expect your intellectual vim.
But don't forget to pack the plastic silverware... just in case.
by Shannin Schroeder, 2008 Convention Chair, Southern Arkansas University