Student Leadership Events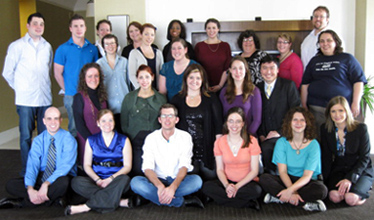 Incoming and outgoing Student Leaders meet at the 2010 Convention in St. Louis.

Away We Go Move Screening
Wednesday, March 23 at 10:00 p.m.
Grab some complimentary popcorn and stay up late with the Student Leadership Committee and Alumni Committee as they present the movie Away We Go, written by featured speaker Dave Eggers.

Dry T-shirt/Bad Poetry Competitions
Thursday, March 24, 9:30 p.m.
Get ready for some side splitting fun as chapters with shirts to sell promote them with funny skits, and then convention attendees bring you the best and worst in bad poetry. Think the love poem you wrote in third grade is worse than Vogon poetry? Enter it in the competition and you might just win a prize. Props and costumes are encouraged.
Open Mic Night
Friday, March 25, 9:30 p.m.
Join emcee Gary Dop and the Student Leaders for Open Mic Night. Step up to the mic and share your original works with an appreciative audience, or just come to hear some truly creative pieces.
Student Leadership Workshop:
Words Into Action

Thursday, March 24, 9:00 - 11:30 a.m.
A leadership workshop presented by Sigma Tau Delta Student Advisors (SAs), Student Representatives (SRs), Associate Student Representatives (ASRs), and Alumni Representatives (ARs)
9:00-9:30 a.m.
Introduction followed by short presentation about Student Leadership and Alumni Leadership positions.
9:40-10:30 a.m. - Break-out Session 1
Chapter Publications
Learn how to produce a literary journal you can be proud of.
Personal Publication
Figure out the best path for getting your own work published, and get valuable tips for avoiding pitfalls along the way.Room
Event Planning
Pick up practical advice on planning the perfect event, from a small induction ceremony to a major academic conference.
Web Tools
Discover the best web tools for organizing and promoting chapter activities.
10:40-11:30 a.m. - Break-out Session 2
Service
Discuss the aspects of a successful service project and learn about valuable resources available to your chapter.
Fundraising
Get useful advice and concrete ideas for your chapter's fundraising efforts.
Grant Writing
Receive a crash course in finding grant money for chapter projects or personal research.
Chapter Management
Make your chapter the best it can be with expert advice on member recruitment and retention, increasing and sustaining active participation, and raising your profile on campus and in the community.
Student Leadership Committee
Lauren Brandeberry, Student Advisor 
Anna Morgan, Student Advisor
Sean Cullen, SR, Eastern Region
Marta Paczkowska, ASR, Eastern Region
Derek Schweitzer, SR, Far Western Region
Michelle Webb, SR, High Plains Region
Janine Brooks, ASR, High Plains Region
Emily Spunaugle , SR, Midwestern Region
Shea Hartmann Hodges, ASR, Midwestern Region
Sarah Fredericks, SR, Southern Region
Jarrod Russell, SR, Southwestern Region
Ellie Douglass, ASR, Southwestern Region
Andrew Moser, AR, Alumni Epsilon Chapter
Stephanie Schiefelbein, AAR, Alumni Epsilon Chapter