Hotel Information
All official convention activities will take place in the

New Orleans Marriott
555 Canal Street
New Orleans, LA 70130

Note: Be sure to contact the correct hotel when you make your reservations—the New Orleans Marriott at 555 Canal Street. There are two additional Marriott hotels in New Orleans, the New Orleans Marriott at the Convention Center and the JW Marriott New Orleans.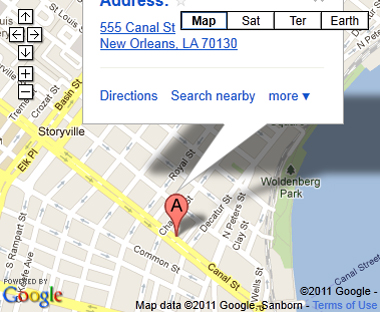 View Larger Map
Reservations
1/27: Sigma Tau Delta's block of rooms for the convention at the special group rate of $125 per night for single to quadruple occupancy (excluding taxes) has SOLD OUT. Check online reservations or call the hotel at 800-266-9432 to inquire about cancellations in Sigma Tau Delta's room block.

Departure Date: Sunday, March 4
The Rock 'n' Roll Marathon Series, a marathon and half-marathon, is scheduled to begin at 7.a.m. on Sunday, March 4. The course runs near the hotel. Please plan extra time for travelling to the airport.
Ground Transportation
To receive the Airport Shuttle discount fair of $35 roundtrip between Louis Armstrong New Orleans Airport and the New Orleans Marriott, you must book online through this link at least 24 hours prior to your flight's arrival time in New Orleans.
Driving Directions to the Hotel