Special Feature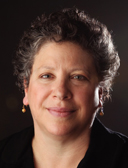 Hester Kaplan's New Novel The Tell
Hester Kaplan was the 2012 judge for the Sigma Tau Delta Journals. It is a privilege that she is kindly sharing her new work with Sigma Tau Delta members. Kaplan is the author of The Edge of Marriage, winner or the Flannery O'Connor Award for Short Fiction, and Kinship Theory, a novel. She is the daughter of two writers, and grew up in a house stuffed with books. She has won numerous awards for her fiction and nonfiction, including an NEA Fellowship, and her short stories have been included in The Best American Short Stories series. She teaches in Lesley University's MFA Program in Creative Writing, and lives in Rhode Island. Her new collection of stories is Unravished.
Excerpt from "A Conversation with Hester Kaplan"
You write novels and short stories. How does writing these forms differ for you?

A short story is a date, while a novel is a marriage. The difference isn't simply about the number of pages, but about how characters (and writer) take the short or long view of events. Characters in short stories are concerned with what is right now, with the decision in front of them or the one they just made, while characters in novels, live and change and understand through the accumulation of a thousand decisions. There is also a difference in how a reader gets to know the characters, either in intense moments of affinity, or in more gradual, unfolding ways.

Short stories use images and memories and details to immediate effect, while novels savor them. Whether I'm working on a short story or a novel, what remains the same is my interest in language, and how it can create mood and atmosphere beyond pure meaning.
View: "A Conversation with Hester Kaplan"
View: The Tell Press Release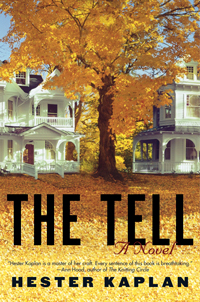 Excerpt from The Tell
For weeks he'd waited for the wild lilacs arching over the carriage house to bloom. Then, back from teaching and a plodding swim at the Y that afternoon, Owen had spotted the first fat plume with its buds rising like a thousand fists. The driveway's pea gravel had protested underfoot as he broke off a sprig. He'd put the lilacs, delicate and strong-perfumed, in a pitcher on the sill over the sink for his wife, Mira, and saw now, as he looked up from his hands circling under running water, how their hue matched the lowering sky, the drooping sun. In the tinted early evening, Providence was washed with improbable color, lulled by a phony urban calm, the arterial whoosh of the highway and the digestive rumbling of the train moving out of the station down the hill toward Boston. Behind him at the table, Mira read in the paper about the city's boasts and failings, its crimes and peculiarities. His wife's head would be at that absorbed angle as though every story was interesting and in some way personal, but he understood that this sense of knowing her completely was wrong.

"Listen to this," she said, and read to him a story about a man who'd beaten his neighbor's dog to death with a shovel because the animal had bitten a five-year-old girl on the face. "All it took was three whacks." Mira banged the table in an echo of finality.

"A Rottweiler," she added.

Owen was so struck by her presence at that moment — the way she bent over the paper; how she spoke, emphatic and raspy; her engagement that kept her in the middle of things, sometimes incautiously — and by this prized evening routine of theirs that a palpitation rose from his chest in a cough. Some essential air flew out of him and left him breathless.

"You okay, O?" Mira peered at him over the top of her green almond-shaped glasses.

O: his name in her mouth. He slapped his ribs and nodded. But his pulse had been strangely rampant too during his laps in the sweet pool water earlier, and it had fluttered with a familiar beat of expectation. It was fortune reminding him of its moody balance, of chance's visit, and of how this house very recently had been atilt with apprehension. Five weeks earlier, they'd been broken into for the first time. They were asleep up- stairs and then awake to hear the snap of the ancient lock on the kitchen door, the rummaging and banging around, the un- invited whispers that were gone in a minute as though a bat had flown through. Owen had rushed, terrified, to the window, saw nothing, but heard the sounds of escape down Whittier Street. Mira's bag and laptop had been taken, and shoeprints were left on the rug to discover in the light.

Owen leaned into the sink and gulped water, leady and lethal, from the tap. Then some movement of white, gone before he could fully detect or confirm it, drew his eye past the unfurling pleasure of the lilacs to the empty house next door. Its windows were violet mirrors. In the year since the place had been on the market, Owen had sometimes used the house to animate wisps of his imagination the way people used empty battlefields. Where they saw the fuming charge across the hard-packed earth, the clash, the fallen in the grass, the victorious mob shaded by in- coming clouds, he pictured his future children on the oak stairs, bodies passing in front of doorways, and the motion of family life he hoped to have here in this house, someday, with Mira.

He'd been inside only once, after the ancient owner had croaked in her bed and the place had been efficiently emptied by her officious out-of-state children. The apocalyptic vacancy of the rooms, the fissured ceilings, the washcloth on the floor of the tub, the isopropyl chill in the air, had awed him. There was something about all those aristocratic details of leaded glass, inlaid floors, and lights hanging like distended organs that made him think of an old man, useless now in a threadbare suit and expensive shoes whom no one wanted to talk to anymore. He couldn't imagine who would want to take on the colossus—smaller and less elaborate than the one he and Mira lived in, but still daunting and ridiculous enough—who would want to coddle it and tend to its bounty of needs, its pickiness. Mira always reported to him when people came to look at the property. She imagined the narrow inhales of prospective buyers who would be unnerved to find their own reflections caught too often in beveled glass or their voices skittering into corners. They might have thought they were the right kind of people for a house like this—bold, quirky, dreamy, rich— but when it came down to it, they couldn't imagine themselves or their children, chairs, and collections living there. They had to admit that they liked clean lines and straight vistas better. Mira had lived in her house for her entire thirty-four years, even during her time at the art school that was just down the hill, which meant she sometimes overlooked the architecture's Victorian haughtiness and how it could make people wonder about their own ambition. Wonder about themselves. Last week she'd told him that there'd been a guy in a tan Windbreaker taking pictures of the house as he walked the perimeter with a clipboard and a tape measure, occasionally blinking up at the high peaks of the roof lost in the vaporous sun of a Rhode Island spring.

Owen saw now that what had been a flash a moment before was really a man moving by the low iron fence that separated the properties. He lost him for a second in the vines and rhododendrons, and then the white shirt winked through the lilac's heart- shaped leaves of rich green. It was hard these days to know who was harmless, who was an intruder, a buyer or a thief.

"Someone's next door," Owen said.