Special Feature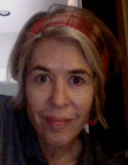 Christina Shea's New Novel Smuggled
Christina Shea was the head judge for the 2014 Sigma Tau Delta publications. She received her B.A. from Kenyon College and her M.F.A. from the University of Michigan. She is the author of two novels, Moira's Crossing (Grove P, 2001) and Smuggled (Gallery Books, 2011). Some of her awards include the Barnes & Noble Discover New Writers Selection, a Mary Ingraham Bunting Institute Fellowship, and a Soros Foundation Grant. She is on the faculty of Lesley University's M.F.A. Program in Creative Writing. Shea lives with her husband and children in Boston. She kindly allowed us to excerpt a piece from her recent work, Smuggled.
"Christina Shea on Smuggled"
I served in the first group of Peace Corps volunteers to Eastern Europe, in 1990. I was stationed in Szeged, Hungary, a city close to the Romanian border. My experience over two years and subsequent years working in the region was an amazing education. This was the end of the Iron Curtain and I was observing firsthand.

In hearing people's stories throughout my travels in Romania and Hungary, I was captivated by the effects of historical change on individual lives. It was many years before I felt I could write this story and, even so, the novel started off slowly. In wanting to write about 1990 Hungary, I found that I had to convey the past. My reader needed to realize how different things had looked just fifty years earlier. A few weeks after my arrival in Szeged, I was walking home from the market in my peaceful little neighborhood when I came upon a majestic synagogue. The sight of it took my breath away. It was huge. It was empty. It spoke to me of a previous life. I understood I was living in a ghost town. The decision to span fifty years in the telling of Smuggled originated here.

Eva herself was born of my love of heroes. I met so many unsung heroes in Romania and Hungary, and I wanted to give voice to just one. The holocaust, communism, Ceausescu's oppression and, at last, the historic change that could set her free; this is Eva's arduous journey through time. Hers is a search for the self that was smuggled away from her at age three. In setting out to write, my intention was to celebrate the depth and complexity of Eva's identity as the source of her bravery. Of course, a happy ending was in order for Smuggled, even though my Hungarian friends think that such is only possible in America.
Source:
Smuggled press release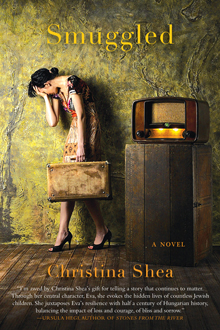 Excerpt from Smuggled
THEY WOULD SLIP HER BETWEEN the seams of the two countries. Eszter made the chain stitches binding the thread into a knot, then she cut the thread close. Straightening up against the chair back, she reached to turn up the lamp. She had done the stitching by hand, not trusting the machine. The money lay flat beneath the coat's lining. The sewn-in pocket was barely detectable. She shook the coat out, then clutched it to herself, shutting her eyes. When she opened them again György's hand was on her shoulder, pressing. "Darling, it's time. We must."

She had to believe in the hiding place. Believe in order to risk the only thing that mattered to her now. She had told Éva the plan that morning.

"But when will you fetch me, Mama? After the war?" Éva had asked.

Her mother nodded. She had explained so many things to her this way. After the war they would have sugar in their tea again, after the war Éva could go to school.

"But you must not sulk or pine, Éva. You mustn't burden your Auntie Kati," Eszter cautioned. Her voice had been fraught, her thoughts at an impasse. "Listen, Éva, for once you do as you are told!" Her words were a declaration. All instructions she delivered with the same fervent insistence. There was no other way to suppress Éva. She was fearless.

It was all because of her hand, Éva felt. Nothing would ever be the same. Her mother had given her several spoonfuls of cough syrup before bed. She awoke from deep sleep on her mother's lap in the passenger seat of György's car. She was buttoned up in a strange coat. Éva stared through thick fog at György driving. She thought it must be Tuesday since her father was there.

At the train station, György took her swiftly in his arms and they hurried up the narrow flight of stairs and along the darkened platform. He drew up short beside the controller's booth. She slid into her mother's arms and was cradled like a baby and her forehead was warm with kisses. György held open the flour sack. They lowered her into it. The blackness swallowed her.

From the bottom of the sack she looked up at her mother's face, a grave moon. Mama! But she shouldn't speak or cry out. She must hide herself. She carefully pulled her broken hand out of its sleeve, nestling it inside the coat.

The moon came close. Her eyes shone. "I love you, my Éva," Eszter whispered.

Then György tied the sack tight.