2011-2012 Project Grant Report
Journaling with Veterans
Oral Roberts University
Alpha Beta Iota Chapter
Last year the Alpha Beta Iota Chapter at Oral Roberts University (ORU), in collaboration with the ORU Student Veterans Organization, set out to start a journal writing workshop and tutoring service for student veterans on their campus. To help fund this innovative and ongoing service project, the chapter applied for and won a Sigma Tau Delta Project Grant.
The project sought to meet the needs of student veterans in a number of ways. According to Dr. Lanny Endicott, the faculty adviser for the Student Veterans Organization, 88% of veterans who attempt to return to college drop out within the first year. Only 3% ultimately graduate. Military service does little to prepare veterans for college life, and many veterans need help with academic writing skills. In addition, many veterans have trouble processing their experiences and have few outlets for sharing their stories in a safe environment. Offering basic tutoring, as well as instruction in journaling and a supportive community of writers, can help vets ease into campus life and build their academic confidence. "If we can get through to these [vets], we can help them continue on in college," Dr. Endicott said.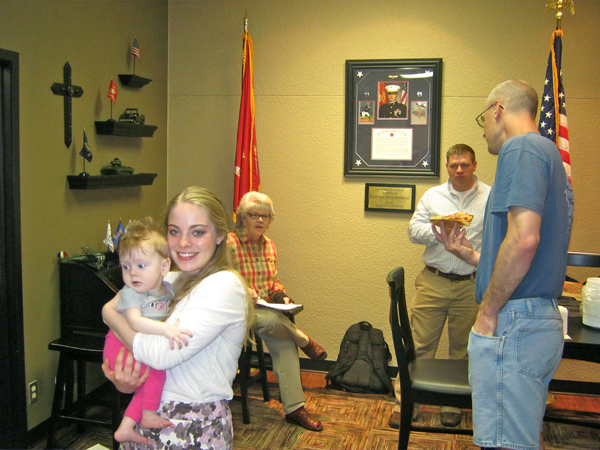 Getting through to them, however, proved to be the biggest challenge. Chapter members learned that they needed to take a slow approach, getting to know the veterans and making them feel comfortable with the process before they could begin to teach them skills. And even before that, they had to identify who the veterans were. According to Chapter President Hannah Covington, "The majority of the students who have come back from Iraq and Afghanistan do not identify themselves as veterans. They are not members of the Student Veterans Organization. Unless they receive benefits from the GI Bill, we have no way of identifying them. To address this problem, we are currently working on establishing a presence in the tutoring center by offering veterans one-on-one help from the English Literature and Writing majors in our Sigma Tau Delta chapter. We have also sent a letter to every English professor so that they can refer any veterans in their classes to Sigma Tau Delta should they need outside help with their writing. We are trying to build relationships with the veterans in a tutoring capacity with the hope that it will increase participation in the workshops. They are more likely to participate in this powerful--and sometimes painful--process of journal writing, with people they feel comfortable with."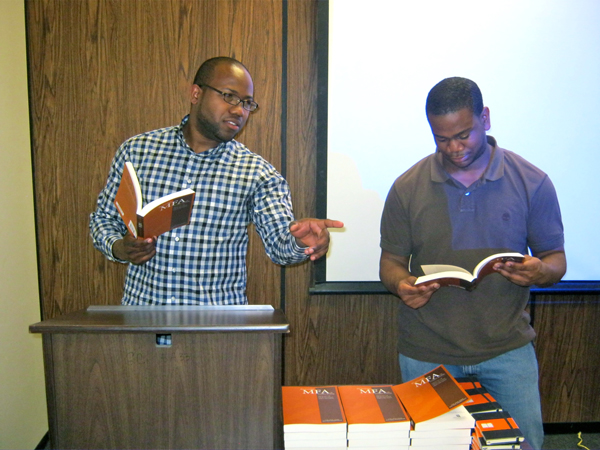 The chapter held pizza socials to introduce chapter members to the veterans. Over time members began handing out journals and copies of the Portable MFA in Creative Writing, and providing advice and instruction on how to keep a personal journal. While the program is still in its early stages, it has already proven beneficial not only for the veterans, but also for the members of the Alpha Beta Iota Chapter. "Being able to meet [the veterans], shake their hands, and get to know the beginnings of their stories has been a moving experience both for me and for the rest of our chapter at ORU," Hannah said. "This service project, in many ways, has made English majors on our campus excited about Sigma Tau Delta and encouraged new members to join the group because they want to be involved in helping the veterans. Members who may not actively participate in other capacities were always eager to come to the meetings with the student veterans as we shared pizza, exchanged names, and became familiar with one another in an informal setting. I can't begin to express how much it means to me when I see some of these men and women on campus this year and they say "hello" or wave to me. These are relationships I treasure and am so thankful to have made through this service project made possible by the grant from Sigma Tau Delta."
Both the Alpha Beta Iota Chapter and the ORU Student Veterans Organization had the following advice for other chapters interested in starting similar projects: take it slow. Projects such as this require an ongoing commitment and may take time to come to fruition, but the benefits can be great. They advised finding a faculty member who is familiar with veterans issues to help spearhead the project, and to try to form a partnership with any veterans organizations that may exist on campus. "Don't be discouraged with small or slow beginnings," Hannah said. "The number of participants may not seem robust or impressive, at first. Oftentimes, the voices emerging from this kind of workshop are the ones that may find trouble speaking. But they deserve to be heard. Writing is healing, a form of creative catharsis. Offering groups like student veterans a way to express themselves through the written word is a way for Sigma Tau Delta members to share the power of language with people who need this type of empowerment."