2014-2015 Project Grant Report
Students for Students
University of Maryland, College Park
Chi Tau Chapter
Sigma Tau Delta's Chi Tau chapter has tutored at local high schools since the inception of our keystone service project, Students For Students (SFS). Former Chi Tau President Lena Stypeck founded SFS in 2013. This semester, our chapter had the opportunity to build upon that legacy with the support of the Sigma Tau Delta Project Grant.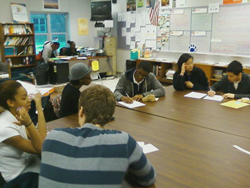 In recent years, our chapter has strived to extend our society's values in writing and education beyond the confines of our campus. In an effort to create a Sigma Tau Delta presence in our local community, our members held several SFS tutoring sessions at Northwestern High School, a school just down the street from the University of Maryland (UMD).
During each visit, our members visited Northwestern's career center and offered writing expertise and college insight to eager students. Most of our sessions this semester focused on college application essays. Students approached each session in various stages of the writing process; some came with a full draft in hand, while others had a prompt, a blank page, and writer's block. Regardless of the student's progress, our members engaged him or her in brainstorming, outlining, or revising.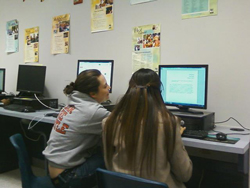 Perhaps above all, our members had the chance to dispel a variety of fears that high school students have when approaching a daunting essay assignment. When students first discovered that we had chosen to pursue an English degree in college, they were often astonished. Many of them hated writing – or they found it to be too difficult. We hoped that by showing them steps to tackling big assignments and giving them tips on creating impactful essays, the writing process wouldn't seem so bad in the end. Furthermore, we worked to build and fortify the students' confidence in their writing abilities to ensure that these students would know in the future that they were perfectly capable of writing at the college level.
Many students told our tutors about their desire to go to college. One student's family had just immigrated to the United States a few years ago. Another had lived in the College Park community her entire life and had dreamed of attending UMD since she was young. Both students' enthusiasm was inspiring. Plus, our tutors had the chance to tell the insider scoop about all that UMD has to offer.
Beyond the chance to engage with local high school students, the SFS service project has been a huge draw in terms of recruitment. While tabling at events, SFS gets many English majors excited about joining our group, and even some non-English majors eager to engage with their local community. In an environment, at least at UMD, where English majors are becoming less and less common, recruitment is vital. We want English majors to be aware of the practical applications of learning to read and write critically so that they can pass that awareness on to new generations of college students.
We hope to continue to grow a passion for writing and literature on campus community and the surrounding community as we prepare for Fall 2015!