Journal - Review Evaluation
Sigma Tau Delta Rectangle - Evaluations
Evaluations Due Thursday, July 5, 2023
Follow the steps below to review the applications assigned to you. To ensure you have access the review site, please login now.
Account Sign In
Go to AwardSpring Reviewer Link.
If this is the first time you are using AwardSpring click on "Forgot Password" to set up your password. You will then receive an email to set up your password.
If you have previously reviewed applications in AwardSpring, sign in.
AwardSpring Review Process
1) In the next screen click on the link to Part 2. Sigma Tau Delta Rectangle

2) You will now see a page with all of the applications assigned to you. To start reviewing applications, click on the first number under Applicant Name.



3) You will be taken to the page with all the information of the application you are reviewing.
4) Now you will score the application. Scores for each section are entered into the boxes in the orange Score section located at the bottom right of the window. To save your scores, press the Save button.
For the Rectangle, you will rate on Craftt, Originality, Mechanics, and Impact.
Recommend for an Award
This review question helps us to further identify excellence for final award judging.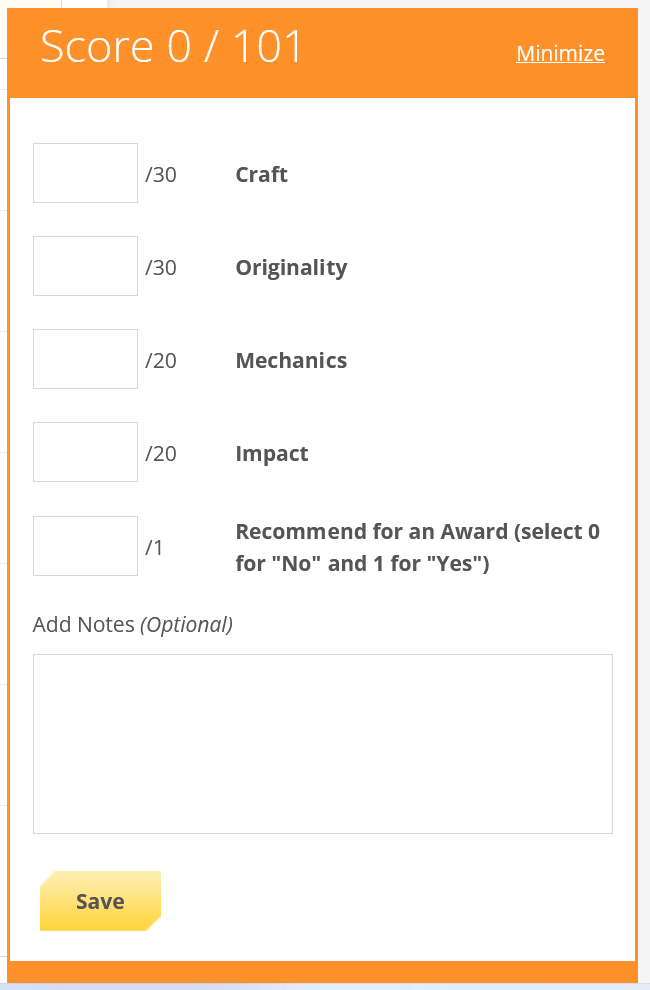 6) Once you have reviewed and scored the application, click the Next button at the bottom of the page to advance to the next application.
Evaluation Guidelines
Before you score your assigned submissions, you may want to read several works to get "a feel" for the process and the quality of work. Consider identifying some strong and weak works to establish your range before rating the works that fall in the middle.
As you review, you will have the following questions or choices to help you rate the work and communicate your recommendations to the Managing Editor.
Abstain from Review
If you have a potential conflict of interest, please abstain from the work. You will not be able to use any other portion of the rubric.
Additional Comments
Only the Managing Editor will see this section.
Please use this space to
Explain reasons for disqualifying the submission (length, hate speech, potential plagiarism, etc.)
Note works that include identifying elements such as submitter name or institution
Recommend that a submission be reevaluated because, for example, the work had a technical glitch that caused a portion of the text to go missing but clearly exhibits its worthiness for presentation
Comment on length
Provide the Managing Editor with feedback, suggestions, or insight.
The Managing Editor will read these comments and may summarize them as feedback for the student author.
Review Recommendation
Do you recommend that we accept this work for publication? (Accept or Reject)
Please give your justification.
For Poetry: please give your justification and identify which 1 or 2 poems you suggest.
Guidelines for Paper Submissions
Journal Submission Guidelines and Submission Instructions
Review Deadline
Please complete your scoring by Monday, July 5, 2023, at 11:59 p.m. CDT. If you have questions or run into issues, please email sigmatdjournals@utdallas.edu.
Thank you for agreeing to review student submissions for the Sigma Tau Delta journals! We could not do this without your help.
Technical Assistance
If you need any sort of technical assistance, please contact Elfi Gabriel or Namon Kent, our technology specialists, at the Sigma Tau Delta Central Office: sigmatdapply@niu.edu.