A Summer, an Internship, a Treasure: My Time at Bitch Magazine
Going to a small, Catholic college in De Pere, Wisconsin carries a bundle of implications for my collegiate experience. But above all it has meant one thing: after taking a single Women's and Gender Studies class, I was considered an authority on the subject. I often raised my hand in religion or English classes and gave my "enlightened" feminist perspective on the issue. Similarly, my friends asked me if a certain song was "feminist or not" and often identified me as their feminist friend.
Cut to the Bitch Media headquarters in Portland, Oregon and you'll see a much different story unfolding. Last spring, I managed to snag a position as the Editorial Intern for Bitch, a magazine hailed as the feminist response to pop culture. Though I walked into the Bitch office prepared to unleash my inner Gloria Steinem, I soon realized that I was less of a big dog and more of a small fish—in a sea of the most intellectual, innovative women I have had the privilege of meeting.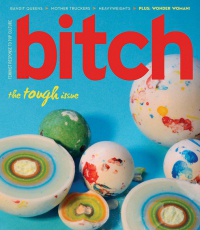 As the Editorial Intern, I spent my days reading pitches from writers, fact checking articles, and penning small articles for the magazine. A normal day at Bitch would start with the smell of coffee and my co-workers lively voices bouncing through the five-room office. Some days would start with a groan (Did Fox News really say that about Hillary Clinton?) and other days would be bursting with excitement (did you see Beyoncé posing as Rosie the Riveter?) Regardless, every day involved something new for me. Before working at Bitch, I had never gone through an entire article to check every single fact; a process that involves meticulous web searches, painstakingly combing through blog posts, and plunging far into the YouTube vortex. I had also never been a part of a professional staff meeting where my opinion was not only solicited, but also valued. My skill set and confidence grew every day in that office, though it all felt like pure fun.
Since Bitch is a widely-read but underfunded magazine, I was not paid for my work. But like every mentor of mine has told me, the pay is insignificant compared to the experience. As I began logging hours at Bitch I noticed I was being paid in a much more valuable way. Working among these amazing women was my first paycheck—I joined Editorial meetings, asked questions, and stayed quiet while I let the answers wash over me. I made note of the way my co-workers established relationships with writers and local businesses, watched as they used the creative process as the leaping pad for every aspect of the magazine, and read every staff member and contributing writer's articles I could get my hands on.
By the end of my summer at Bitch, I had spent all my money on Voodoo donuts but somehow felt I had struck gold. My ego squashed and my mind expanded, I went home both humble and proud. For all those considering an internship—stop thinking and act now before someone else snatches it out of your hands. Eat up knowledge, ask questions, and make sure you listen to the answers. You'll be all the richer.