2012 Convention Stories
More Things to Do, Mo' Things to Learn
by Alexander Daley
Far Western Student Representative, 2012-2013
Alpha Eta Gamma Chapter
California Lutheran University, Thousand Oaks, CA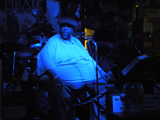 On our second-to-last night at the Sigma Tau Delta 2012 International Convention, my chapter decided to celebrate our presentations at The Funky Pirate on Bourbon Street. Between sets, the musician "Big Al" Carson commented that, "in New Orleans we have 'Mo'; that's 'More' for everyone else." This statement encapsulates my entire experience in New Orleans.
During the convention, there was always more to do. Of course, I went to the presentations featuring the members of my chapter. They were all fantastic. The majority of our time in the hotel was spent attending sessions that catered to our own interests. The program did not disappoint. There were panel sessions about themes in vampire novels, roundtable discussions about the significance of religion in the classroom, and presentations by great keynote speakers.
If you think to yourself that you might have a "vacation" at one of these conventions, you are profoundly mistaken. There were so many events to capture the imagination that it was hard to fit them all into a single day.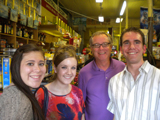 That being said, one would be remiss to omit the experience of seeing New Orleans outside of the hotel. My chapter and I were able to experience Mo' of what New Orleans had to offer. We visited some of New Orleans' most famous institutions: Café Du Monde, The Central Grocery, and (of course) Bourbon Street. After a day of sessions and discussions, Bourbon Street was the place to go.
Without a doubt, New Orleans introduced me to a number of new "favorites"; my favorite establishment was The Funky Pirate, where "Big Al" Carson and the Blues Masters introduced me to the great genre of the Blues, and the bartender introduced me to the local brew, Abita Thunder Dog.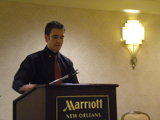 However, it is impossible to encompass all of what the 2012 Sigma Tau Delta International Convention meant to me in a single page. Being elected as Student Representative for the Far Western Region was most unexpected and humbly accepted. I met people whom I will never forget. I got to know the members of my chapter on a more personal level. In short, I appreciated every single moment.
I started off with Big Al's differentiation of Mo' versus More. Upon closer inspection, I think what he meant — for those unfamiliar with New Orleans — is that you will always have More to do at the convention, but you will have a Mo' enlightening experience if you approach each opportunity with an open heart and an open mind.