2015 Convention Stories
Surprises in the Land of Enchantment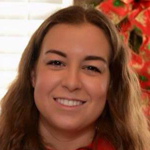 Arianna Perry
Phi Iota Chapter
Stephen F. Austin State University, Nacogdoches, TX
The Sandia Mountains loom before me as I emerge from the airport. I have never seen mountains before, not in all my years of traveling. I take a deep breath of the dry air and admire how different the desert landscape is to the lush piney woods of East Texas, not to mention the culture. The architecture and artwork are so brilliantly colored it is breathtaking. But I have not seen anything yet.
Old Town Albuquerque is even more impressive. Even after a whole afternoon of shopping and dining, I'm still not able to see and visit everything on the map. I can still taste the sugar crystals on my lips from the blueberry bear claw I ate at a local bakery. I can still smell the authentic Mexican food from a tiny café where I enjoyed a delicious meal of enchiladas. And my wallet still suffers the effects of my excessive spending.
Like Old Town, Sigma Tau Delta Convention 2015 surprises me with its variety, warmth, and charm. The Albuquerque Convention is my first convention, so I'll admit I'm not sure what to expect. I walk into the Hyatt Regency expecting to sit through some boring lectures about English and its role in society, or do some cheesy activities to get to know one another.
After I receive my name badge, which I notice is yellow for first-timers, I attend the Student Leadership Workshops. As the Public Relations officer of the Phi Iota Chapter, I can't help but feel excited to learn new activities and fundraising ideas for my chapter. Member Resources and Fundraising is the first workshop I attend—the one I believe our chapter needs most. There, I'm surprised to find myself opening up, speaking out, and helping others with ideas, who I realize are in the same position as me, their chapters threatened with extinction if they don't do something. The ideas flow between us from book sales to bake sales to creative writing projects. And before I know it, I'm on to the next workshop, Recruitment and Chapter Activities, where I meet my region's Student Representative. Here, my next surprise awaits me.
And it's me. I decide to run for Student Representative of the Southwestern Region (and I win!), definitely not what I was expecting walking into convention. But I learn that, at convention, surprises, large and small, await.
Save Our Stories