2012 Convention Stories
Convention Story
by Jeffrey J. Jett, II
Midwestern Student Representative, 2012-2013
Xi Delta Chapter
Northern Illinois University, DeKalb, IL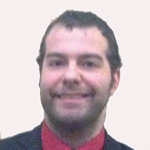 The four of us going to the convention, Xi Delta Chapter's President (myself), Vice President, Treasurer and Webmaster, all came to the conclusion that we were woefully underdressed to be staying at the New Orleans Marriott Hotel. After checking in and contacting our friends, family and peers, we departed for Mother's Restaurant for dinner.
This would be the start of my Shrimp Po' Boy Journey, as I was determined to find the best sandwich in New Orleans. Everything was made to order and fresh. The atmosphere of the restaurant was also very interesting as it had portraits of famous people on the walls. Pictures of local history, servicemen, and other unique items hung all over the walls of this building. The restaurant also managed to weather the brunt of Hurricane Katrina virtually unscathed, aside from some slight water damage and spoiled food. The food was incredible, with a wonderful atmosphere and excellent service. If you are ever in the area, check this place out. You will not be disappointed, I assure you!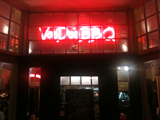 When we returned to the hotel room, our Vice President had a bed all to herself, our Treasurer and Webmaster shared a bed, and I had an armchair/swivel chair combo for my sleeping arrangements. Fortunately, I can be comfortable and fall asleep in the most unusual of circumstances, so this wasn't a problem for me. At eight o' clock, we started our day. I stayed back and got dressed, preparing for the excellent comic book presentation on Marvel's Civil War story-arc, which later transitioned into a discussion on how to utilize comic books and graphic novels in an educational setting. The panel wrapped up promptly at 12:15, and I met my fellow officers for lunch at another local shop with excellent food, Papa's Pizza. They made each pizza item fresh and to order. Fantastic! I had never had pizza fresh off of the line. We decided to attend the panel on Disney Villains as Fallen Women; this, too, was superb. I then proceeded with my Executive Board to the Sigma Tau Delta Informal Regional and Alumni Caucuses. After this meeting broke, we ventured out to Voodoo's BBQ & Grill to sample more local cuisine.
I had quite possibly the greatest sweet potato pie ever in this unique and trendy restaurant. I had (you guessed it) a shrimp po' boy that was not quite as good as Mother's version, but the fantastic side dishes more than made up for it. Voodoo's had a variety of sauces to choose from, and several warm-colored walls adorned with unique and odd things. Highly recommended if you are a fan of barbecue with a unique twist. I returned to my hotel room after indulging in the hotel bar. I then climbed into my armchair and prepared for Friday's festivities.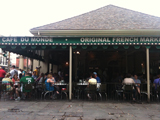 I had the privilege of witnessing three wonderfully written papers about John Milton, which was also moderated by our esteemed Executive Director, William Johnson. This was one of the most intriguing and thought-provoking panels I attended at the convention, and I learned far more about John Milton than I had known prior to attending. Though it was early in the morning, I was very impressed with how organized and focused this panel was. We then departed to one of the most famous locations in New Orleans, Café du Monde. I had a beignet, and enjoyed the cool air and atmosphere of the surrounding park. Beignets are essentially powdered French donuts served hot and are made fresh daily. It was a treat to have something so uniquely French in New Orleans, alongside all the other wonderful restaurants and locations in town. I returned with our Webmaster and Treasurer to the Sigma Tau Delta Business Meeting and the Midwestern Regional Caucus at 11am. I was in a contentious race for the Student Representative position, and hoping to have the good fortune to represent Sigma Tau Delta as the new Midwestern Region Student Representative. After being voted in to my new position, we enjoyed a ghost tour in New Orleans with a very quirky and enjoyable guide, showing us the wonders and horrors of New Orleans, and capped the night off with Hurricane drinks in the Marriott bar later in the evening.
Saturday's activities were very busy in terms of my new position as Student Representative, as I had the great honor to dine with the outgoing Student Representative, Associate Student Representative, and our Midwest Regent. We went to Mena's Palace to dine together and figure out the finer details of the new undertaking. I then participated in several other leadership workshops and activities before attending the gala dinner with our chapter Treasurer and Webmaster. We all had the chicken, which was superb, as was the exceptional company of another college and their hilariously quick-witted Chapter Sponsor. As the awards were given out, I had the great pleasure of witnessing Dr. Johnson whip beads onstage while I heard echoes of the word FEAST throughout from the crowd. It was certainly an evening I will never forget, and a dinner I will never forget.
All in all I had a wonderful experience in New Orleans, Louisiana for my first Sigma Tau Delta International Convention, and cannot wait to attend the next convention in 2013 in Portland, OR. If you ever plan on visiting New Orleans, I highly recommend the restaurants listed above, and you should certainly take the ghost tour Haunted History Tours. You won't be disappointed.