2014 Convention Stories
The Personal is Political: My Sense of Belonging in Sigma Tau Delta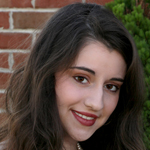 Crystal Stone
Student Representative, Eastern Region (2014-2015)
Allegheny College, Meadville, PA
When I arrived at the Savannah Riverfront Marriott, the room I entered resembled my mind: slightly disheveled. Sideways heels rested on the carpet; make-up populated the desk; soap and shampoo waited ready in the shower. I had no idea what to expect: not for my roommates, the international community of Sigma Tau Delta members I would soon meet, or the convention in general. I was the first and only member of my college to ever attend the convention and I was rightfully nervous.
The first night, I attended the Alison Bechdel talk before presenting at The Rectangle reading. She reminded me of my film professor who had a similar haircut, facial structure, and vocal tone. The moment Alison mentioned "the personal is political," I saw the connection to my film professor more clearly. Professor Branch used that same phrase when explaining the final film project in my video activism class. "We only really have one big idea our entire lives," Alison said. Thinking back to that class, this made sense. In my film, I hadn't really explored anything new. I re-examined ideas that I had been analyzing since childhood: the relationship between identity and parental relationships; the cultural rhetoric surrounding motherhood. "My big idea relates to the '70's feminists' slogan 'the personal is political,'" Alison continued as my mind wandered.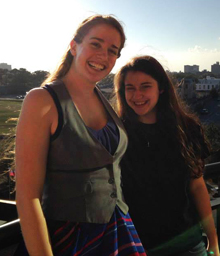 But after she mentioned her father's death, I was engulfed. My mother died the week following the viewing of my final video for Professor Branch's class. Like Alison, I felt like a lot was left unresolved. Seeing the pictures of her graphic novel and hearing her thought-journey following her father's death was cathartic for me. I could identify. I could understand. I then believed I, too, could create and inspire.
After that first night, the people I met from various chapters and positions of Sigma Tau Delta made me feel similarly. Everyone was encouraging and welcoming—despite the incredible talents and work ethics—I didn't encounter a pretentious member. Despite attending the convention alone, I never felt lonely. I was welcomed into a larger community of people who were actively exploring their own "big ideas" and willing to support me in my own intellectual journey even though we started as strangers.
Alison says we have one big idea all of our lives. At the end of the convention, I had only one big idea about Sigma Tau Delta: I could belong.