2016 Convention Stories
The Sound of Convention's Calling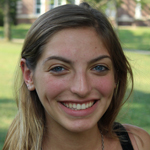 Kristen Capano
Alpha Epsilon Alpha Chapter
The College of New Jersey, Ewing, NJ
A few weeks after returning from the Sigma Tau Delta 2016 International Convention in Minneapolis, MN, I was sitting in my dorm room at The College of New Jersey scrolling through Buzzfeed.com, strategically avoiding my statistics homework (as English Majors do). I came across a quiz entitled, "We Can Guess Your Favorite Sound based on Three Questions!" and my mind instantly flew those three hours inland to the St. Paul International airport. Would Buzzfeed really be able to guess the sound of my friends' laughter as we lurched forward from the metro's momentum pulling out of the airport station? Or possibly the sound of Siri telling us "The destination is on your right—Hyatt Regency Hotel" as we stared up twenty-four stories at possibly the biggest hotel we had ever seen? Maybe the reassuring applause I received from the panel audience as I stood to read my critical essay? Clicking "Take Quiz," I was sure the odds were in my favor.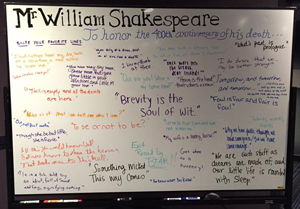 Applying to the Sigma Tau Delta Convention is one of the best things I could have done for myself as a college sophomore. The sense of community I experienced throughout my five days in Minneapolis was nothing short of inspiring. Never at my induction ceremony into the Alpha Epsilon Alpha Chapter of this organization could I have imagined being offered the rare yet amazing opportunity to meet people from across the nation who felt as passionately toward the English language as I did. Nevertheless, I was immediately welcomed into the arms of students, scholars, and even dogs spanning from all corners of the USA who shared my enthusiasm for literature.

Not only did attending the convention reinforce my decision to major in English, it sparked new interests in me I didn't know existed! Attending workshops on Shakespeare, leadership, creative writing, and entering the job market were all valuable experiences I will continue to carry with me throughout my college career and beyond. Even professional writers Charles Baxter and Kao Kalia Yang came to offer up their cherished wisdom! Just as diversity on a college campus is necessary for student exposure and growth, the convention diversity amongst both practicum and people was crucial in opening my eyes to all the possibilities Sigma Tau Delta has to offer.

Now how can the sound of wind chimes compare to that?
Save Our Stories