2015 Convention Stories
Gifts From My First Convention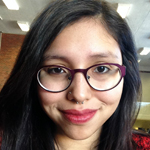 Shelly Romero
Midwestern Region Student Representative
Alpha Epsilon Eta Chapter
Stephen's College, Columbia, MO
Shelly's blog was selected 3rd Place in the 2015 Convention Story Contest.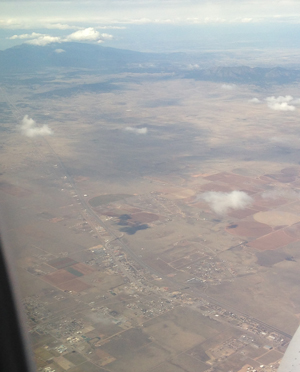 As the plane descended above a desert land, the Sandia Mountains came into view, encircling the east of the city. The mountain range, peeking out above wispy clouds, welcomed me to Albuquerque, the city of "Borderlands and Enchantments," and to my first Sigma Tau Delta international convention.
Arriving at the Hyatt Regency Hotel, bags in hand and adrenaline pumping from my first flight, I entered the lobby and was greeted by a friendly, chaotic happiness mingled with anticipation for the events to come.
That Wednesday afternoon, I stood at the registration table, nervous and anxious. Around me, convention-goers welcomed each other back with hugs, laughter, and questions about what they were going to do during this convention.
To me, they were new faces wearing badges with unfamiliar names, holding booklets from the registration table, and marking down pages within them with their nifty highlighter-stylus-pen hybrid. I was an abecedarian who wasn't sure of what was to come, but I was sure of one thing: I was going to experience convention to the fullest.
From open mic and bad poetry nights to the chapter merchandise sales, I became acquainted with so many people and every one of them was inspiring, full of talent, and with a great love of letters, just like me.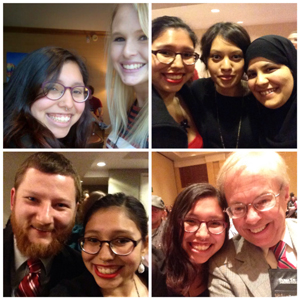 By Friday afternoon, I had participated in workshops and roundtable discussions, and had explored Albuquerque's local spots such as Old Town and JC's New York Pizza Department. I had new friends with whom I joked with and was continuously astounded by their talents. In turn, they welcomed me as if I were a cousin in a large family, just one they hadn't been introduced to.
 
Convention and my newfound friends gave me three great gifts: friendship, confidence, and inspiration.
When I presented my metafiction piece, I never expected to have my nervousness be replaced with confidence. I never expected to read my writing and to receive such a friendly response from the audience. I especially never expected to be elected by my region as their Student Representative.
To me, you get out of convention what you put into it. I met new people, I experienced as much as I could of the city during my four-day stay, and I gained confidence in myself and my work.
So, I can only say that if you decide to attend convention, do everything and anything, because you won't regret it.