2015 Convention Stories
Encouraging a Deeper Education and Experience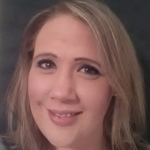 April Stokes
Phi Delta Chapter
Western Illinois University, Macomb, IL
It all started with encouragement. Encouragement to go to college, then, once in college, encouragement and support to put out our best work, get our voices out there, hear other voices, represent other voices authentically, all while attempting to fulfill our dreams in the world and giving back the encouragement we have received—be the best version of ourselves we can be.
These are some of the sentiments I have as a Western Illinois University English major who had the opportunity to attend and present my creative nonfiction at the Sigma Tau Delta International English Honor Society Convention in Albuquerque, New Mexico, along with five fellow WIU English majors: Natasha Morgan, Michael Belman, Christina Sanders-Ring, Kasandra DeFrieze, and Kimberly Ackers. (Everyone pictured left to right with Dr. Timothy Helwig.)
As we headed across the country from Illinois to New Mexico after tirelessly editing and re-editing our works for presentation, we found we're connected to other students, faculty, and professional writers by the shared desire to help, encourage, and support each other. From the start, the opportunity to attend this convention came with an enthusiastic "you can do it" from our Sigma Tau Delta Chapter Sponsor, Dr. Timothy Helwig, and support from our English faculty mentors. The English professors at WIU helped me gain confidence to edit and submit my work. Once my submission was accepted for presentation, they congratulated me, and helped all of us attain funding to be able to attend and present our creative and scholarly writing at the convention.
During the convention, I heard students from across the nation express gratitude to their generous professors, and everything about being at the convention was inspiring: the people sharing in discussions, stories, creativity, knowledge, and research gave us insight to think about other perspectives and a bigger picture, bringing out our pride and excitement in moving forward to finish our undergraduate degrees.
We arrived back on campus with an overwhelming feeling of gratitude knowing we learned pieces of who we are and gained a deeper appreciation of our education. This convention took us outside of the classroom and opened, broadened, and deepened our minds to the diverse thoughts, voices, opinions, feelings, and personalities of other student writers. I would encourage Sigma Tau Delta members to take the opportunity to submit their critical and creative pieces for consideration to the convention in Minneapolis next year and to get out and connect!
Save Our Stories