2012 Convention Stories
Opening Up in the Big Easy!
by Tamia Easterling
Southern Associate Student Representative, 2012-2013
Alpha Alpha Eta Chapter
Tennessee State University, Nashville, TN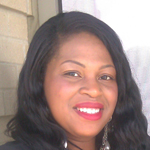 I will be honest and say that due to nerves I do not remember all too well the speech that I gave during my campaign for Associate Student Representative. I do remember one point made towards the end of my speech quite clearly: Attending Sigma Tau Delta's convention the previous years had indeed changed my life. I know it may seem cliché, but the convention is a great opportunity for networking, for chapter relations, and, in my case, an opportunity for personal growth and professional development. During the past two years that I have attended the convention, I have come back with an amazing story to tell; last year's story was related to the amazing closeness that occurred while stuck in close proximity with chapter members for four days. The other took place in a ballroom, in the New Orleans Marriott, the moment I realized I could do anything I set my mind to!
While in New Orleans, I dabbled in numerous activities that I had previously thought impossible. Due to a lack of transportation, I had to walk to most of my choice destinations. After a knee injury the previous summer, I thought that task to be impossible, but a 5-pound-lighter-me can honestly say the distraction was all in my head! I also managed to come out of my shell and chair two panels despite my dyslexia, which often makes public speaking hard for me. When I left New Orleans, I may have physically left the city, but the experiences and knowledge I gained came right on the plane with me to Tennessee State University.
I don't tend to be the preachy type, but to those wondering if they should attend the convention next year, I say go for it! The experience is invaluable, and one that can open your eyes not only to what Sigma Tau Delta is all about, but also to who you are as well! Hope to see you all in Portland!!