2015 Convention Stories
A Love Story for the Land of Enchantment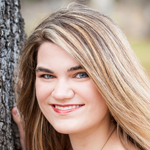 Amber Jurgensen
Southern Region Student Representative
Rho Gamma Chapter
Louisiana Tech University, Ruston, LA
Amber's blog was selected as a runner-up in the 2015 Convention Story Contest.
In the middle of March, I traveled out to the deserts of New Mexico to attend the 2015 Sigma Tau Delta Convention. As I gazed out of the plane window during the descent, the clouds parted to reveal a brilliantly blue sky and a landscape of riverbeds, hills, and even a snow-capped mountain in the distance. I hadn't even touched down in Albuquerque, and I was already transfixed by its beauty. The view from the ground, however, was better than I could have ever imagined.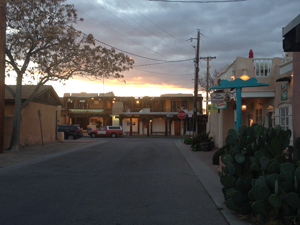 Art and culture are taken seriously in Albuquerque, and creativity permeates every edifice of the city. From the adobe structures near Old Town to the mural on the wall of the building by our hotel, beauty and the creative spirit were never far from the eye. I found it particularly fitting that this city, where Native American art and legend fused with popular culture (it is the home of Breaking Bad, after all), would be home to a convergence of the most innovative minds I have ever had the pleasure to meet. Although I was charmed by every aspect of the places I explored, such as the local artists displaying their handmade jewelry by the sidewalk and the little Celtic shop I was surprised to discover hidden in the corner of an upstairs shopping center, the ability to communicate with others who share my passion for literature and writing was what truly captivated me the most.
On my first day, I attended a roundtable, not knowing what to expect. What followed was a riveting discussion about book-to-movie adaptations that engaged every person in the room. Even the most obscure titles were recognized, and I was so caught up in the conversation that the end of the session came as a shock. The rest of the events I attended would follow this same pattern.
As I watched my final desert sunrise on the last day of the convention, I knew I'd be returning if at all possible. Sigma Tau Delta has helped me to expand my literary knowledge and connect with other lovers of the English language, and I am completely and utterly enchanted.
Save Our Stories