2011 Convention Stories
Beyond Words: The Convention of Opportunity
by Jolie Hicks
Southwestern Region Student Representative, 2011-2012
Lambda Omicron Chapter
Southwestern Oklahoma State University, Weatherford, OK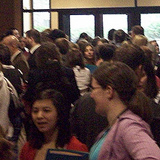 The blue shuttle bus, traveling to downtown Pittsburgh, was packed full of highly intellectual college students invited to attend the annual Sigma Tau Delta Convention. Most American buses would be abuzz with incessant chit-chat and laughter from demonstrative university students, looking for the next person they can add to their contact list on the most popular social network. However, this particular airport shuttle was so quiet that the fear and anticipation held by these introverted creatures were almost palpable. These students were walking into the unknown, were embarking on a journey, and were willingly going to present their personal pieces of literature to other like-minded individuals, with the hope that they had something enlightening to offer. As an English student, I have been labeled by many people as an introverted bookworm, full of dreamy ideas and thoughts that only a few people can hope to ever understand. At first, these descriptions seemed negative, almost derogatory, making me feel like an odd duck, yet after examining my surroundings at the convention and meeting so many other compatible people, I began to understand that my passion for words is shared with other creative minds and I am privileged to be a member of an amazing reading and writing community, Sigma Tau Delta.
Scanning the convention brochure, I noticed that each session at the convention was strategically organized and perfectly categorized by imaginative writing themes and impressive titles, and I was completely excited to find my name listed, too! Immediately, in my type-A way, I began making a list of each session that sounded intriguing to me, generating an eagerness to participate in my very first Sigma Tau Delta Convention. After sitting through several presentations, I found myself speechless and awestruck by the incredible talent assembled under one roof. The guest speakers that came to Pittsburgh were astounding, as well, giving personal testimony of their individual writing habits and discussing in detail the personal struggles that they have faced. This community of writers was very comforting to all of the new, up-and-coming authors in Sigma Tau Delta. The Society is not a place where the mediocre and apathetic student hangs out but where the innovative and idealistic achiever can be found. The sight of English honor students from all over the country standing before their peers, sharing inspiring ideas, along with the sound of accented words, being read off the printed page, provided an unforgettable experience and an exceptional opportunity to embrace the convention theme, "Beyond Words."
2011 Pittsburgh Sigma Tau Delta Convention
by Kelsey Hixson-Bowles
Student Advisor
Alpha Theta Eta Chapter
Kansas State University, Manhattan, KS
As I slowly come out of my post-convention shock and back into "real life," I've begun to process all the events that occurred. After flying into Pittsburgh and registering for the convention, I eagerly flipped through the program to pick out the sessions I wished to attend. I picked out a few "must sees" and then went to the showing of Away We Go and won a copy of the movie, which I later had signed by Dave Eggers himself! Speaking of speakers, I thought all the keynote speakers were fabulous and inspiring, but I was particularly inspired by Dave Eggers. His tone was humorous, if a little nervous, but his message was clear: pursue your purpose in life. He said, "Never underestimate your words and their power," which was the best way to end our Beyond Words themed convention.
The bad poetry night and the open mic night were also a blast. Our student leaders really did a great job this year providing fun social activities and a wonderful informational student leadership workshop. My group decided to divide and conquer by sending one person to each of the sessions offered. I went to the personal publication and grant writing seminars, which were both useful in my pursuit of service projects and creative writing.
For those who have never been to a Sigma Tau Delta convention, I seriously recommend it. Bringing so many English scholars together in one place encouraged a think-tank atmosphere and we could almost see the ideas zipping through the air. I know I was inspired by the panel presentation from The College of New Jersey called "Coming to the Convention as a Crowd." The students and advisors on this panel had so many great ideas about how to encourage service projects, fundraising, paper/panel submissions, and group bonding, all to create interest in going to the convention. The tips I took from that panel are sure to help me in my quest to vitalize the High Plains Region and get more of our chapters to the convention next year.
This year was also special because I joined the list of presenters. I read a short story and gave a panel presentation called "Can a Novel Unify a Campus?" Even though I didn't bring back a convention award, the experience of sharing my work and research was invaluable and good practice as I move along in my college career and start looking towards grad school.
Apart from the sessions and speakers, my experience was enriched by the people I met. One night, my group from Kansas State University ate dinner with this past year's High Plains Student Representative, Michelle Webb. The conversation was lively and the experience of eating a coleslaw and french-fry infused sandwich off layers of wax paper will be in my memory forever. I also had the opportunity to get to know my fellow K-Staters on a deeper level which will help us work as a stronger leadership team on campus.
The benefits of attending the Sigma Tau Delta Convention are innumerable. It's an experience that I will always be thankful I gave to myself and I hope that next year even more students attend when we take things down south to New Orleans!
Convention Experience
by Allie Martin
Southern Region Associate Student Representative, 2011-2012
Alpha Omicron Psi Chapter
Freed-Hardeman University, Henderson, TN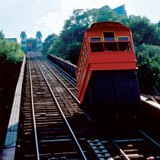 Fifteen hours in a packed Toyota Camry was not my idea of a great trip. Nevertheless, three other English majors from Freed-Hardeman University, our Faculty Sponsor, and I wedged ourselves into the car and headed toward Pittsburgh, PA, for the Sigma Tau Delta 2011 International Convention. This was my first convention, and I did not know what to expect.
When the Convention Committee chose Pittsburgh as the site for this year's convention, they definitely knew what they were doing. I don't know if I've ever had the pleasure of visiting a city with so much culture! Several times my group went to Market Square to eat lunch or supper during our breaks. Restaurants around a quaint square with its cobblestoned streets, Market Square stood in stark contrast to the skyscrapers surrounding it. My Philly burger at The Primanti Brothers' restaurant was my favorite meal: the famous Primanti Brothers' offering with slaw and French fries ON the sandwich.
My group was also able to meet up with students and faculty from Eau Claire, Wisconsin, to ride the Incline up the mountain. I'd never been on a lift like that before, and although the new experience was exhilarating, I was hardly able to revel in that for being distracted by the incredible view. The Ohio river encompasses the triangular tract of land that houses the downtown area, and bridges of various sizes and grandeur lead from the residential areas to the sky scrapers. The students and sponsor from my school and the University of Wisconsin-Eau Claire students have been involved in a collaborative project for the last six months, and getting to share this moment with fellow English majors (whom we had not meant in person before this convention) was gratifying.
Lorene Cary, author of the Common Reader Black Ice, spoke Thursday night, and hearing her accounts of teaching in the Pittsburgh prison system was inspirational. I've never considered teaching in any capacity in the future, but many of the audience members asked her questions about this work and mentioned they were looking into similar activities. In fact, many of the sessions I went to advocated world literacy. So many English majors at the conventions cared about sharing their passion for English with the world.
I didn't know what to expect as our small group from western Tennessee set out towards Pittsburgh. What I found was a sense of camaraderie unparalleled by my previous experiences. Everyone who attended the Sigma Tau Delta Convention had a zeal for literature and the English language. I was blessed to be elected as Associate Student Representative for the Southern Region. The next year ahead is sure to be a learning experience, but I am thrilled to be a part of it.
Convention Stories
by Sarah Faulkner
Far Western Region Student Representative, 2011-2012
Alpha Zeta Iota Chapter
Chapman University, Orange, CA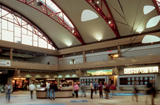 I was thrilled when I heard that my critical paper had been accepted to the 2011 Sigma Tau Delta International Convention. I was even more excited when I confirmed that the papers and creative works of thirteen of my peers had been accepted as well, and that eleven of us would be flying to Pittsburgh in late March. This would be my first convention, my first presentation of an accepted paper, and my first experience in such a large community of driven and talented English scholars.
The preparations were hectic. Trying to find funding, helping people book flights and hotel rooms, and comprehending that Philadelphia was not the same place as Pittsburgh consumed much of my time prior to convention. When I showed up to my group's meeting spot at 4 a.m. on March 23 to wait for our taxi, I was nervous about the week ahead. The flight was long, and we landed into chaos. Pittsburgh was in the midst of a great storm, and we were delayed on the tarmac for an hour and a half, only to be welcomed into the airport by TVs flashing with tornado warnings. After another grueling hour of collecting bags and waiting for our shuttle, I was having my doubts about the wisdom of going to the convention.
We were awed on first emerging from the airport into Pittsburgh. Its impressive skyline and high population of yellow bridges struck me as different from anything I'd seen before. We were shuttled to the Wyndham Grand Pittsburgh Downtown, a beautiful and extremely accommodating hotel. With so much travel trauma, we had missed that day's registration and decided to venture out in search of food. We stumbled upon Primanti Bros., where I experienced a sandwich containing two fried eggs, cheese, coleslaw, and fries. I was officially in Pittsburgh.
The week quickly turned into one of the best of my life. The Student Leadership Workshops were extremely useful and fun, and I discovered many brilliant ideas and people from across the nation. We then did more exploring of Pittsburgh, including riding the tram up the hill to Mt. Washington and exploring Station Square. It was also on this day that I attended the unofficial regional caucus and debated if I should run for Student Representative and was, of course, persuaded to do so by the amazing opportunities and possibilities for growth.
On Friday, I attended the Scholarship/Awards Ceremony to discover that I had received the Far Western Regent's Scholarship, a very pleasant surprise. We then moved to the Regional Caucuses, where I was elected Student Representative for the Far Western Region. As all the representatives met for lunch in the Executive Suite (which I had been eyeing from the 24th floor for a while) I began to get truly excited about the Student Representative position and its potential. The day continued with an amazing trip to the Andy Warhol Museum, dinner with my chapter, and hearing Kay Ryan read her soothing and inspiring poetry.
Saturday opened with the nervous excitement of presenting my paper. After listening to my best friend read her creative piece at 8:00 a.m., I felt a little easier, and we presented next to each other at the 20th Century British Lit. Critical panel at 9:30 a.m. After my paper on Yeats was delivered, I traveled all around the Wyndham with my chapter to see five different presentations, including the brilliant panel on Harry Potter.
The women from my chapter and I then got ready for the Gala, putting on our finest black and red dresses. We sat at dinner with our chapter, awaiting the announcement of the convention winners. One of the graduate students from our chapter won second place in original fiction, news which was met from us with a great roar of cheers. We enjoyed the sense of community and accomplishment felt throughout the room filled with over 1,000 dedicated leaders and scholars. After the Gala, we heard Dave Eggers give a marvelous talk about his life and work, and the Convention was officially ended. I said goodbye to the wonderful new friends I had made throughout the week and prepared to make the trip back to California.
The four days I spent in Pittsburgh at convention were amazing. The week was filled with opportunity, knowledge, growth, and truly inspiring people. I am so thankful for the opportunity to attend, and I look forward to implementing the positive ideas and attitude I gained into my own chapter and my own life. I am very much looking forward to the next convention in New Orleans! Until then, I will remember convention as one of the best experiences of my life.
Convention Stories
by Joeseph Asbury
Far Western Region Associate Student Representative, 2011
Rho Tau Chapter
Utah State University, Logan, UT
Beyond Words. That could be an appropriate description of my experience at the convention. The members of our chapter had never been to the convention before, so we really had no idea what to expect.
Our brave troop went on to enjoy the four day convention.
I attended the Leadership Workshop, and I could not be more pleased that I did. The workshop gave me a lot of ideas about how to make the Rho Tau Chapter more active in the community and within the English majors and minors.
The Bad Poetry Contest was a highlight. All three students from our chapter presented a poem. I enjoyed the contest in its entirety. I can see why the contest is a favorite from year to year.
The panels enlightened me. I had no idea that there would be such a selection from which to choose. The topics appealed to people from across all disciplines of English.
The experience I had at the convention allows me to extol the virtues of Sigma Tau Delta. Seeing the Society operate as a worldwide community helps me better clarify to my school why Sigma Tau Delta is such a great organization. People come to discuss and present what interests them. Opportunities abound for making new friends and new insights into the world. If all that fails, being a member of an international honor society looks good on a resume.
Sigma Tau Delta International Convention 2011: Beyond Words
by Katherine Williams
Southwestern Associate Student Representative 2011-2012
Theta Omicron Chapter
Union University, Jackson, TN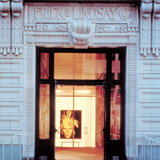 On an uncharacteristically chilling week of spring, yellow bridges dotted the Allegheny and Monogahela rivers of Pittsburgh, Pennsylvania. As silvery air-filled pillows floated effortlessly in the Andy Warhol Museum, countless thousands of college students dotted the downtown business district of the former industrial city, but rather than wearing the colors of yellow and gray of the city, they chose to wear cardinal and black to show off their pride in Sigma Tau Delta. On the last full week of March, Sigma Tau Delta members from chapters across the country met at the Wyndham Grand Pittsburgh Downtown hotel and convention center to present papers, attend student leadership workshops, and meet other like-minded college students for this year's theme, "Beyond Words."
Amid the hustle-bustle of events, readings, and bad poetry contests, students and sponsors alike considered what it means to go "beyond words" in Sigma Tau Delta. As a literary organization, words are the foundation of what we do best, as most of us are English majors. The featured speakers also decided what it meant to go beyond words in life as well as in writing. Writers Jacqueline Woodson, Lorene Cary, Kay Ryan, and Dave Eggers each tried to answer what it means to go beyond words in writing and in action. At my first Sigma Tau Delta convention, I too tried to figure out this riddle.
While exploring the panel discussions and downtown eateries, and while trying to find the nearest flight of stairs to avoid the choked elevators, I observed several groups of people my own age meeting with and bonding almost instantly with other students, even if their chapter regions were thousands of miles away. What was it that connected so many of us, beyond distance, beyond varied lifestyles, social backgrounds, or course curricula? It could have been our like-minded appreciation of literature, its nuances and subtle inside jokes that only another bookworm could understand. Or it could have been our age group that, although separated by distance, could find a common thread through a wireless, lightning-paced technology. Or, like Warhol's silver clouds, we could all just have been suspended in air, casually bumping into each other in a fan-filled room of chance.
However, once I had witnessed these students' easygoing connection with each other, coupled with their boundless energy and drive for their chapters, it became clear to me that these members weren't just part of a school club, or looking for an excuse to cut class, or (in my case) simply going somewhere over spring break. Rather, these gifted and engaged students had a similar drive to get involved in something beyond themselves in order to benefit their community, while engaging with an international group of students. Perhaps this shared positive experience is another meaning for going "beyond words."
It takes a village...Beyond Words 2011
by Alexandra Reznik
Student Advisor 2011-2012
Pi Delta Chapter
Duquesne University, Pittsburgh, PA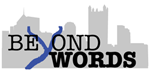 I was so excited that the Sigma Tau Delta International Convention, Beyond Words 2011, took place in my hometown of Pittsburgh. After growing up in the 'Burgh, attending undergrad at Chatham University, and deciding to pursue my MA in English Literature at Duquesne University, I am proud to say that I share the same inspirational place as writers August Wilson and Willa Cather. The many communities I have fostered in Pittsburgh have inevitably expanded to an international level with my involvement in Sigma Tau Delta. Another community at Chatham University that I have been so privileged to be a part of is the Alpha Delta Lambda Chapter, of which I was the chapter President for the past two years. The Alpha Delta Lambda Chapter of Sigma Tau Delta had a very exciting week at the Sigma Tau Delta 2011 International Convention. Over the past year, we assisted the convention chair Dr. Dangelantonio in compiling a list of places to go in Pittsburgh as well as giving other logistical assistance. Also, as a result of the work I have had the opportunity to share with members on Chatham's campus and in the Pittsburgh community, the Alpha Delta Lambda Chapter won an Outstanding Chapter Award, with a monetary prize of $350 and an additional $350 in travel reimbursement for the chapter. Our chapter also won the Service Award, with Sigma Tau Delta donating $200 to our sponsored non-profit, the Greater Pittsburgh Literacy Council. Our Chapter Sponsor, Dr. Lenz , won the Outstanding Sponsor Award for the Eastern Region. The Eastern Region is the region with the largest number of members in the international organization of Sigma Tau Delta. I had the honor of receiving the Sigma Tau Delta Senior Scholarship, and I am so excited to be a Student Advisor for the 2011-2012 term.
While it was phenomenal to make so many great new friends and to network for projects this upcoming year, my emphasis here is to reference this year's convention theme, "Beyond Words." Perhaps Lorene Cary and Dave Eggers can most poignantly articulate my favorite moments over the past week. At Lorene Cary's presentation, Cary asserted that "Emotion is the currency of our writing." Whether we were writing creative or academic works, personal interests and passions most definitely infused all of the work Alpha Delta Lambda members presented. Mariah Crilley analyzed the representations of deaf boys in nineteenth century literature. She will be pursuing her master's in literature this fall at Duquesne University. I had the opportunity to present about the construction of British identity through voice and music on a panel with impressive colleagues. I will also be attending Duquesne's graduate school with particular interest in studying the presence of music in literature and how it constructs national identity. Nicole Titler offered a reading of Shylock through a new historicist lens of Jewish representations from the early modern period into today. She still has one more year at Chatham and will be serving as chapter President for 2011-2012 but wants to eventually study English literature and history in graduate school. Brittany Goncar presented poems from her collection "The Distance in Our Veins" and will be continuing to pursue her MFA at Chatham this fall through the accelerated degree.
Lorene Cary's interest in writing speaks to all other writers: "You gain access to other information if you write deeply enough." Every presentation at the convention was evidence of that. On Saturday night after the Red and Black Gala, Dave Eggers discussed his nonprofit 826 National. His organization actively seeks to go beyond words and into political action by tutoring students who need assistance. He further explained that access to knowledge is the greatest democratizing force and simply said that "books have impact." Alpha Delta Lambda hopes to continue efforts to see material improvement in the Pittsburgh community by working with The Greater Pittsburgh Literacy Council in the same way that 826 National is influential in communities. All of the members of our chapter have worked extremely hard to make this year's convention a success and are looking forward to the convention in New Orleans next year to expand our village further.
2011 Convention Experience
by MeKoi Scott
Southern Student Representative 2011-2012
Omicron Psi Chapter
Auburn University, Montgomery, Montgomery, AL
The day before my chapter flew to the convention, the manager at the Learning Center, where I tutor, asked me if I was excited about the convention. I told her I was neither excited nor unexcited. Definitely, I was appreciative for the opportunity to attend the event, but, to my mind, I had little to anticipate that would create excitement. I had never been to convention before, so I could not draw upon previous experiences to formulate what would possibly be in store for me. Only vague notions about what a convention offers could I conjure, especially about an English convention. Besides the opportunity to present academic or creative works and meet people who also enjoy literature, what else could the Sigma Tau Delta convention offer? As I found out, it can offer more enriching and motivating experiences that one could anticipate.
As I listened to students present their works during the various sessions and also read their inventive poetry during the bad poetry contest and on open mic night, I was infused with added desire to hone my own craft and to find compelling ways to express my own ideas. Not that my desire lacked before my ears were tickled and stimulated by words that pleased and ideas that provoked, but these words and ideas made my desire the more intense. Now I carry with me this inspiration as I push myself to improve.
In addition to being inspired by other students' works, I was also giddy with the inebriating pleasure of being immersed in literary discussions. One of the members in my chapter told me about an instance he had experienced at the previous convention: he encountered a conversation weighing the merits of the characters in Stephen Crane's "The Open Boat." When I heard his story, I thought it would be nice to be among a large group of people who knew such topics or, at least, would be genuinely interested in such topics. However, from his story, I could not have anticipated the culminating effect of being in one stimulating discussion after another. It was as if I had stumbled upon a magical place, and once I crossed its threshold, everyone there greeted me with "Welcome! We have been waiting for you."
This sense of community and the added inspiration sent me staggering away from Pittsburgh in a euphoric bliss.
From "Beyond Words" to "Reawakening"
by Amy L. Woody
Eastern Student Representative 2011-2012
Alpha Eta Sigma Chapter
Westfield State University, Westfield, MA
This was my first Sigma Tau Delta International Convention, and it exceeded my expectations in every way. Arriving at the Wyndham Grand Pittsburgh Downtown, I was more than pleasantly surprised by the interesting architecture and even more interesting people that Pittsburgh's Cultural District had to offer. It was the perfect setting for feeling inspired, and Jacqueline Woodson was the perfect opening-night speaker to kick that inspiration into overdrive.
Thursday, I found myself surrounded by the best people that English Departments all over the world have to offer. I spent the morning listening to our Student Leaders give advice about publishing and grant writing. I met more people waiting for the elevator than probably any other time during the convention, and though I was annoyed to be waiting at the time, I would not trade those five-minute elevator conversations for anything. When else do you get to meet people from all over the world who are happy to laugh at your literary jokes or join you in writing a poem about the way you almost got smashed by the elevator doors?
The energy was ever-palpable. Even at my 8:00 a.m. presentation, the students were engaged and interested in the work I had created. It was not a typical educational experience; the people there were so committed to excellence in their craft. Even the "bad poets" read with a commitment unparalleled, that I could not help but want to give something back to them, represent them. I had considered running for Student Representative before I left for the convention, but, it being my first convention, I wanted to see what it was all about first. While there, I realized that I wanted to be more deeply involved with the organization and its people, and thus I decided to run for Student Representative of the Eastern Region.
I was nervous. I wrote and rewrote my speech. But standing up in front of all the students, who in so many ways were just like me, felt more like being at home than running for office. Hearing our former SR, Sean, announce my name was a pivotal moment in not only the convention, but also in my educational career. (A little assuming goes a long way.)
There were more panels and more speakers and more moments to be had on the elevator. Saturday, I attended a panel on graphic narrative and left with a sincere interest in visual literacy. I listened to other members of my chapter present their works, and felt a deeper connection to them as people and academics. Students from the Eastern Region were coming up to me all day Saturday to congratulate me, and I was more than thrilled to have the opportunity to start to get to know the population that I'm honored to be representing. And of course, listening to Dave Eggers speak was not only inspirational, but instantly fruitful. My chapter is already talking about the possibility of a service project involving the Boston branch of 826 National.
Sitting in a shaky sky-bus on the way home, I had visions of New Orleans. I know it's a year away, but I am enthusiastically looking forward to next year's "reawakening"!
Save Our Stories