2012 Convention Stories
Diving Head First
by Jon L. Peacock
Alumni Representative, 2012-2013
Omicron Zeta Chapter
Alumnus of Long Island University, Brooklyn, NY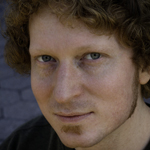 When I became a member of Sigma Tau Delta, I was a graduate student at Long Island University, Brooklyn campus, and our chapter had been inactive for a number of years. Our Sponsor wanted to breathe new life into the chapter, and needed a student leader to help with this, so basically I hit the "English Honors" ground running. I became President of the chapter, recruited fellow creative writers as our Sponsor recruited undergrads, and we immediately planned events and fundraisers. The following spring I led a panel at the 2010 Convention in St. Louis, and graduated soon after, thinking my time with Sigma Tau Delta was over.
I was wrong.
Once I learned about the Alumni Epsilon Chapter, just this past year, I decided to once again visit the wonderful annual convention for Sigma Tau Delta. This time it was in New Orleans, and now I came to represent a school where I teach, St. John's University in Queens, New York. That first Wednesday I went to register, and was greeted by the wonderful Jayne Wiese Higgins, volunteer extraordinaire and overall nice person, who told me of several opportunities for an alumnus and faculty member such as myself. I took advantage of all of them!
A talk on updated Shakespeare here and a group of wonderful original stories there, I enjoyed the many panels on Milton, Austen, old, new, and the original pieces of hope, fear, and many ways of thinking. After a day's activities I would reward myself with great gumbo, jambalaya, muffalettas, po'boys, all the delightful foods of N'awlin's! I even went to the historic Preservation Hall one night to hear the Preservation Hall Jazz Band play another legendary set.
While enjoying new friends at one of the lunch-ins, Jayne came to me with a dilemma: One of the panels needed a last-minute moderator replacement. New to the convention as a non-student, I jumped on the opportunity to help and moderated a panel of students sharing original poetry. I didn't know what to expect, but I was blown away from the truth and creativity of these young writers! The poetry ranged from spoken word to epic-style, from personal to social, and each of the four students brought with them experience, practice, and professionalism. It was a great first!
Then came the elections for the two alumni representatives. I said how much the knowledge of Alumni Epsilon brought me in a matter of a short time, and how I wanted to help this part of Sigma Tau Delta grow by sharing this knowledge with those who don't yet know, and for this I was elected as the Associate Alumni Representative. Directly after, I went to an alumni and faculty mixer, where I chatted with both the President of Sigma Tau Delta (until the following day), Sidney Watson, and the incoming Vice President/President Elect, Gloria Hochstein. Both were warm, welcoming, and very informative. I learned a lot, experienced even more, and will always have these beautiful memories of the New Orleans 2012 Sigma Tau Delta Annual Convention!
Now, if you'll excuse me I'll get back to work, trying to fulfill my promise to show the great people of Sigma Tau Delta the wonderful possibilities which await them after graduation.