2012 Convention Stories
Convention Story
by Nick Miller
High Plains Associate Student Representative, 2011-2013
Sigma Beta Chapter
Chadron State College, Chadron, NE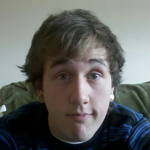 This was my first experience at a Sigma Tau Delta convention and to be honest, I was quite nervous. I served as ASR for the High Plains Region last year, but was elected at a regional conference, and as a result, I did not know what to expect once I got to New Orleans. Initially, I was scheduled to leave Chadron on February 29, but due to issues with the weather, my flight was delayed. I finally left Chadron early Thursday morning in a small propeller plane that held a maximum of roughly 20 people and had a short, but bumpy hour and a half flight to Denver International Airport. I finally reached New Orleans at roughly 3:45 p.m. and had to reach the Marriott as soon as possible because the informal regional caucus was at 5:00 p.m. Thankfully, the airport shuttle driver got me to my destination without incident.
At long last, I made it to that grand hotel, and I felt a sudden urge to kiss the pavement (which I decided against upon further inspection of said pavement). I managed to get my room in order thanks to MeKoi (a fellow student leader with whom I was sharing a room) and I met up with a few other student leaders with time to spare. After the informal caucus, I found some people from the University of Nebraska-Kearney in the lobby, and spent the rest of the evening discussing papers, school, travel, and a million other topics. As I looked at my surroundings it dawned on me that I was among my people. It was an intoxicating feeling that would get me through late nights and early mornings and still dwells within me as I write this. The Chadron State English Department is pretty small when compared to the English Departments of larger state colleges and universities, so it was fantastic to see so many people who have a strong love for literature in one building. Not only were my fellow Sigma Tau Delta members avid literature-lovers, but everyone that I had the pleasure to speak with was incredibly friendly and genuine and it was great to get to know such amazing people.
Because this was my first convention I did not realize how many people presented papers. As I looked through the catalog to figure out which sessions I wanted to go to I desperately wished that it were possible for people to be in two places at once. All of the topics were interesting and extremely varied, ranging from roundtables on the Common Reader to papers on vampire literature. A large sum of the papers that I had the chance to listen to were fantastic and thought provoking, and I found myself leaving each session with a myriad of ideas for papers of my own.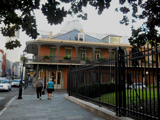 The city itself was charming to say the least. I was surprised how close we were to the French Quarter and spent much of my time wandering the narrow streets, taking in the beautiful architecture, the history, and the music. I was used to seeing street performers, as they seem to be a permanent fixture in any city with a relatively large population, but the performers in New Orleans were unique. Any time during the day there seemed to be a large group of musicians on any given corner playing wonderful Jazz arrangements of old marching band songs. One band that sticks out the most in my mind was a group that was largely made up of children ranging from 6-12 and each one of them were remarkable musicians. I looked on and listened with a strange sense of envy, awe, and respect and was sure to leave a fistful of dollars in their bucket.
Nebraska is not exactly known for its seafood nor is it really known for any culinary achievements other than Kool-Aid (the importance of which can be debated). I was completely blown away by everything that I ate and I can honestly say that I did not have a single bad meal the whole time I was there. New Orleans has an abundance of extremely fresh seafood because it is right next to the ocean. You haven't tried oysters yet if you haven't had them in New Orleans. Not to mention po-boys which are the sandwich equivalent to the Holy Grail (and my go-to food while I was there). The only downside is that nearly everything I ate was fried and super spicy so I was dying to eat some raw vegetables once I got home.
Overall this was a tremendously positive experience; it was great to finally see the other students leaders face to face and meet other fantastic like-minded individuals as well. Hopefully I can bring more people to represent Chadron State College next year.